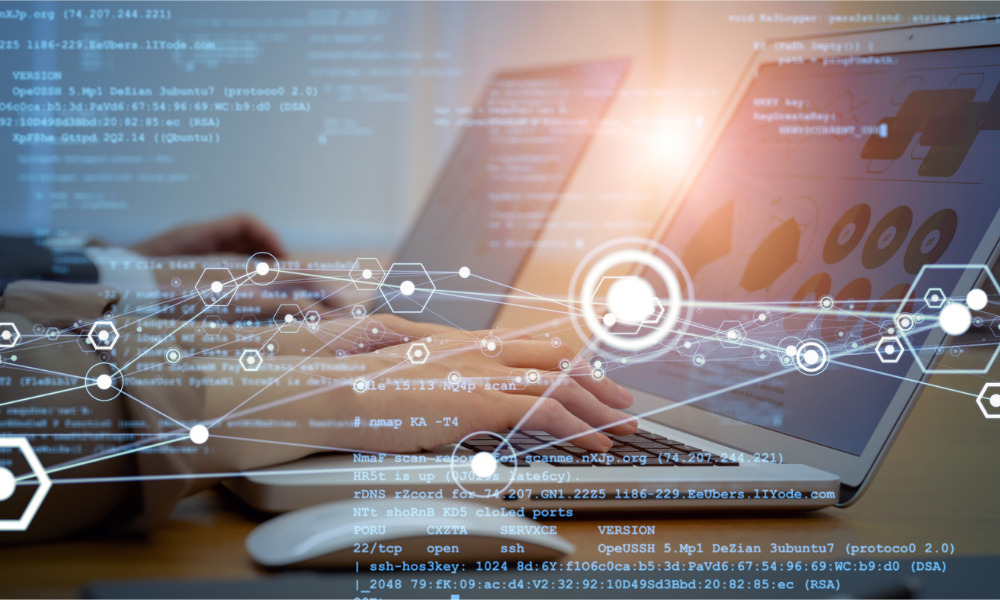 Employee engagement is one of the critical things that a company should focus on since it ensures both job satisfaction and productivity among the workforce members. Employee engagement and worker-focused policies are needed to develop a great company culture. 15Five is an employee engagement software that boasts itself as "the best employee engagement tool" today because of its efficacy in connecting management, employees, and their co-workers.
This 12Five review will give you an overview of the software, its pros and cons, and how this tool might help your institution manage—and maximize—your employees' engagement, performance, and retention.
Developed and distributed by the company of the same name, 15Five is an employee engagement software based on positive psychology, or as the company calls it, the Positive Product Design method.
According to its developers, the software is more than a communication tool but a comprehensive employee engagement platform that allows management to get deep insight into their workforce's behaviors, performance, and needs through surveys and regular interaction with the workforce members. It was created to cater to the needs of companies and organizations of different types and sizes, public and private, including non-profits.
Meanwhile, the information gathered through the platform can be used by the company's top decision-makers to address existing issues and concerns in the workplace, prevent possible issues and problems, and create programs and policies that can help the workforce achieve their KPIs and OKRs.
The developer also offers the following services:
Performance management and review: They provide flexible, insight-driven, and holistic performance management and review, focusing on creating a positive work experience in the organization.
Training and coaching for managers: The company provides training and coaching to make them modern leaders capable of handling the workforce and creating a positive work environment, thus ensuring talent retention, productivity, and company growth.
To understand more about the philosophy and science behind their employee engagement software, you may find the following video worth watching:
Once the platform has been installed according to the company's needs or preferences, each user will be asked to create an account to use the tool. The system will ask users to create their own username and password, or your HR or team manager will designate a temporary username and password for them.
Here's what the 15Five login page looks like: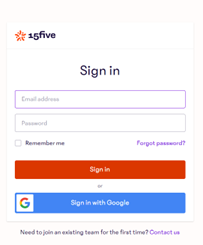 Inside the platform, employees and managers can explore its functionalities:
High Fives
Check-Ins
1-on-1 Agendas
Reporting
Objectives
Once your account is created, you can:
Set up your profile;
Customize your notification settings;
Update user information update;
Upload your preferred photo as your profile picture;
Answer company surveys;
Give feedback;
Answer questions from managers and peers;
Set your objectives and goals.
We feel that the goal setting function is one of the highlights of this software.
Team check-ins creation for managers using 15Five
The system allows managers to create their teams. Once a team member is added, the system automatically sends a notification to that team member. The system also allows managers or team leaders to assign roles to each user based on their level of access and responsibility.
Team supervisors can create check-ins to get regular updates from their team members. This can be done weekly or bi-weekly. Questions regarding work progress, challenges, and goals can be included in these check-ins.
The platform is also available on mobile. Employees and managers using Android devices can download the latest version of the app via the Google Play Store. Take note that the app runs smoothly on Android 6.0 or higher. For those who are using iOS devices, you can download 15Five from the Apple App Store.
The mobile app offers the same functionalities and makes it easier for employees and managers, especially those working remotely, to log in to check on the available surveys, 1-on-1 check-ins, and more.
What is a 15Five check-in?
Check-ins are considered the most potent tool an organization can have when facilitating effective and meaningful conversations between the management and team members. When appropriately utilized, Check-ins can offer valuable and robust support to your organization's further growth and development, increase engagement between the leaders and members of the teams inside the organization, and ensure that everyone is motivated to achieve individual and team goals.
Check-ins have the following benefits:
It allows everyone to align their personal goals and visions with the institution's overall goals.
Check-ins enable the team to celebrate progress and achievements.
For managers, check-ins help assess situations and remove roadblocks (challenges, issues, and concerns), ensuring a smoother workflow.
The program/software enables everyone in the organization to stay connected. The platform allows managers and employees to post questions and receive clear answers in real-time.
Check-ins also empower managers as they can easily see challenges and concerns that the workforce is facing and resolve them using a holistic and data-driven approach.
The platform also allows them to align their leadership goals with the company and individual goals, visions, and aspirations.
Regarding pricing, the developer offers four packages to choose from:
Engage: US$4 per user per month, billed yearly. This package focuses only on employee engagement and provides managers with valuable outcomes and insights when it comes to employees' participation in day-to-day operations and some parts of the decision-making process. The downside of this package is that you cannot integrate any other tools or programs, such as Google Calendar, Teams, and Slack.
Perform: US$8 per user per month, billed yearly. Compared to the Engage plan, this is more comprehensive as it includes performance reviews, calibration, competencies, and other tools to ensure better engagement among managers, employees, and peers. This package allows the integration of other tools, such as Teams, Google Calendar, and Slack, which makes communication better, faster, and more efficient. The package also comes with free Android and iOS apps.
Focus: US$8 per user per month, billed yearly. Focus looks closely at OKR management and allows the integration of customer relationship management and project monitoring software like Salesforce and Jira.
Total Platform: US$14 per user per month, billed yearly. This package gives you absolutely everything in the Perform and Focus software options. This offers you the maximum amount of performance from the software, giving you everything it has to offer.
All plans have a free trial. You can book a demo to learn more about their products and services and the benefits of using this software.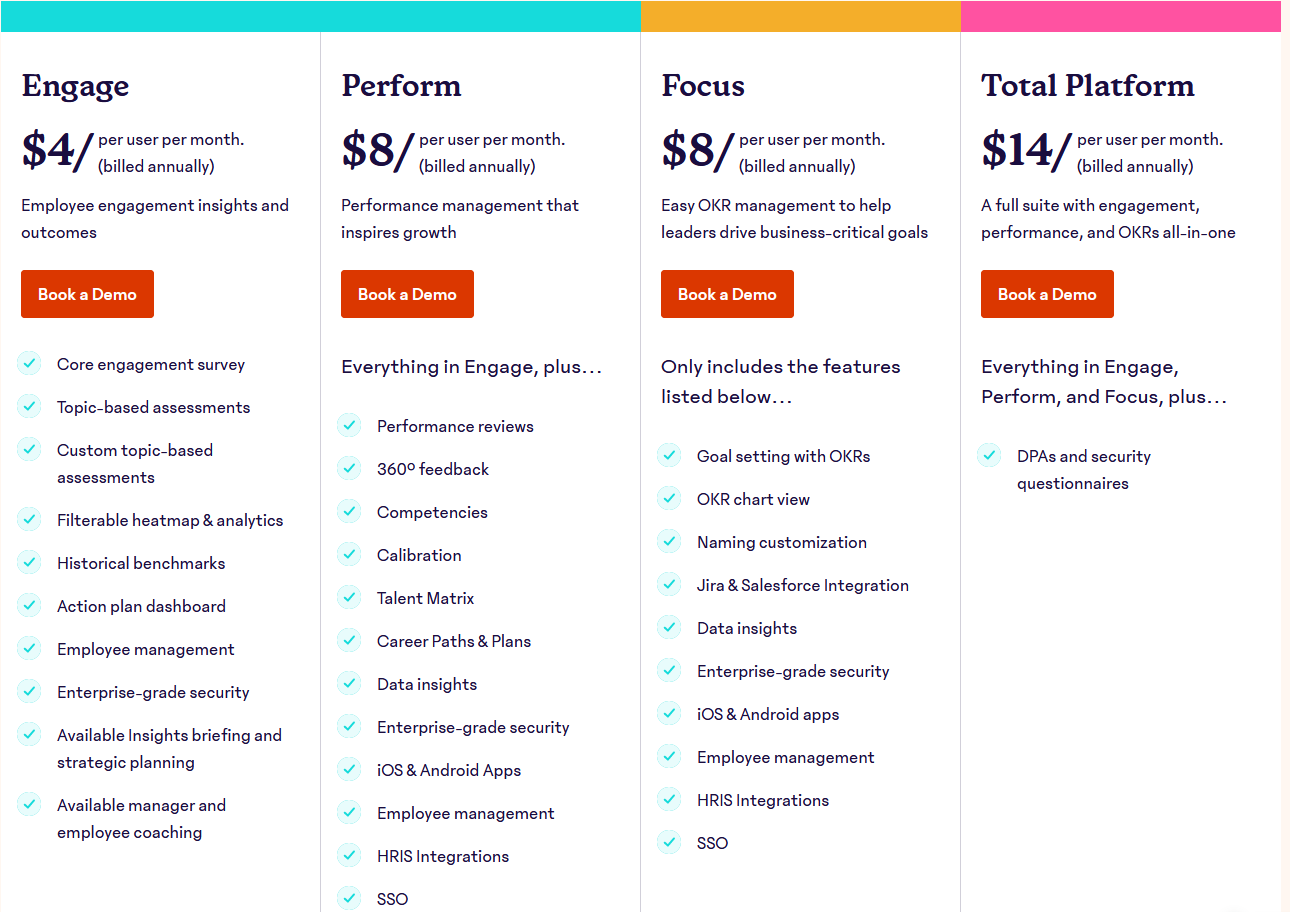 If you are thinking of getting this program as your employee engagement software, here are a few of the features that seem to work well for companies"
Regular check-ins: The software provides a platform for regular check-ins between managers and employees. This helps to keep employees engaged and provides an opportunity for managers to offer support and guidance.
Goal setting: With this tool, employees can set goals and track their progress, which helps them feel a sense of ownership and accomplishment. This will lead to higher job satisfaction and engagement.
Feedback: It encourages regular feedback between managers and employees. This helps build trust and transparency, allowing employees to receive recognition and constructive criticism.
Recognition: The software provides a platform for employees to give and receive recognition. This helps to build a culture of appreciation and recognition, which can be a powerful driver of employee engagement.
Visibility: The software allows managers to see what their team is working on and how they are progressing. This helps managers to identify potential roadblocks and provide support as needed, which can help to increase employee engagement.
Employee development: This can be used as a tool for employee development. By identifying areas for improvement and offering support and training, employees can feel valued and invested, leading to higher engagement levels.
Affordability: The pricing is competitive, and based on their pricing scheme, you can choose the Engage package or the Total Platform, depending on your organizational needs.
If your company is looking for any of these features, we do recommend that you give it a look. it excels in these specific areas, which may or may not meet all of your needs.
Year Founded: 2011
Headquarters: 12 Gallagher Lane, San Francisco, CA 94109
Other US Offices: Raleigh, North Carolina; New York, New York; Fishers, Indiana
Key People: David Hassell (CEO & Co-Founder), Nazar Ivaniv (CTO & Co-Founder), Shane Metcalf (Co-Founder), Jim Morrisroe (Chief Operating Officer), Julia Stead (Chief Marketing Officer), Sayle Hutchison (Chief Financial Officer), Erik Verbeek (Chief Customer Officer)
Founded in 2011, the company's vision is aligned with positive psychology and applies a holistic and people-centered approach to its product and service development is people. Aside from software development, the company offers employee engagement software and leadership training for managers to make them leaders that fully understand the concept of people-centered leadership.
Furthermore, the company offers a wide array of HR products to help an organization achieve its goals and ensure its further development through employee engagement, OKR monitoring, performance reviews, surveys, and check-ins.
Here's CEO David Hassell being interviewed about 15Five:
What companies use 15Five platform?
Based on their website, the following companies are using this software as their employee engagement tool:
HubSpot
Spotify®
Credit Karma
Pendo
WPEngine™
HubSpot and Spotify are, of course, international brands using this tool successfully. That's a good sign because these companies could afford anything, and they are choosing 15Five.
Who are their competitors?
While this employee engagement software is great at what it does, there are still other employee engagement tools that might pique your interest. We recommend you look at:
hibob
Culture Amp
HelloTeam
Leapsome
SurveySparrow
Officevibe
Workvivo
Xexec
Engagedly
Lastly, I thought it would be interesting to look at why they call this software 15Five. Here's the word from CEO David Hassell: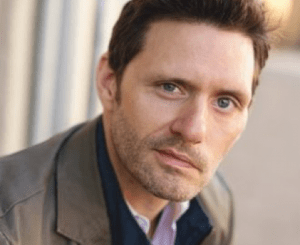 The idea behind 15Five is employees spend "15 minutes to write the reports and managers spend no more than 5 minutes to read them."
As an employee engagement software, 15Five offers an effective tool for managers and employees to cultivate a positive culture in their organization, especially during this time of hypergrowth, notwithstanding the effects of the global pandemic, as it provides a platform for open communication, feedback, progress monitoring, goal setting, check-ins with team members, and recognition—key things to keep everyone inspired, motivated, and aligned with the company's vision, mission, and goal.
If you still feel that you haven't quite found the perfect fit for your organization, we invite you to look at the rest of our HR software reviews. You'll be sure to not only learn more about the HR software space, but also find a few tools that may just supercharge your company.
Are you a company or institution that uses this software as an employee engagement platform? We want to hear your thoughts about it! Share them using the comment section below.
Related stories