A notorious Arizona restaurant is drawing further bad press for teaching the world how not to write an employee contract.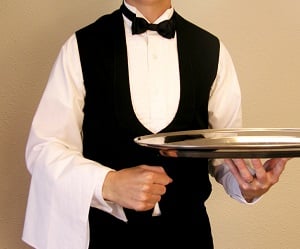 A restaurant that gained notoriety in May for being the first business that Gordon Ramsay was unable to help (due to conflict with the owners) on the reality television programme Kitchen Nightmares is attracting more bad press for its harsh employee rules.
While some of the rules regarding food preparation make sense, such as workers pulling long hair back, others are so strict that they can barely be believed. Here are some examples:

"If you fail to show up to your scheduled shift we may penalize you monetarily."
"Any type of attitude will result in immediate termination."
"You must leave the premises immediately after your scheduled shift, and no family or friends may come to see you while working."
"You must remain in your designated working area."
"No purses or bags are allowed inside ABC, (exceptions may be made) however upon leaving a designated employee of ABC has the legal right and consent to inspect any and all packages that you may have brought with you."
"No visiting or unnecessary talking is allowed during your work shift."
"Any product such as food or plates that are broken or burned due to direct negligence will be taken from your pay check at ABC's cost."
"Holidays and Weekends are Mandatory, by signing this contract you are accepting that you will be required to work all Holidays, and Weekends. Due to the nature of our Industry this is a necessity and any No-Show will be monetarily penalized with a fee of $250.00."
"The wait staff understands that any and all "tips" are property of the "house"."
"…By signing this contract you are hereby accepting that you will be employed exclusively by ABC Amy's Baking Co. LLC. And shall not work for any competitor within a 50 mile radius of ABC within one year termination or voluntary."
Imagine not being allowed to say 'hello' to your colleagues, not being able to bring your bag to work, or having to consent to an inspection on your way out if you do! The rule on tips is particularly harsh in the American context given that wait staff there are often paid a lower minimum wage than is generally acceptable since their income is supplemented by the generosity of patrons.
The full employment contract was published on Radar Online.