Philippe Dubost has set the bar very high for web product managers looking to set themselves apart from the crowd.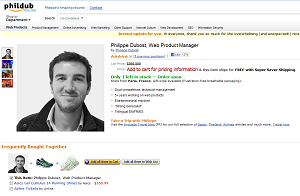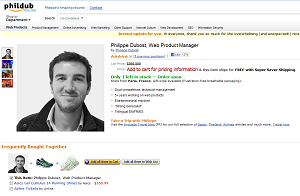 It's been called the cleverest online resume ever written – Philippe Dubost's mock Amazon product page that touts his skills and experience. And it's gone viral.
Dubost, a web product manager from Paris, took two days to create the exact replica of an Amazon product page and it has proved worth the effort. By the end of last week he had already received 100 emails from prospective employers and traffic to his site has tested the limits of his free server.
The resume adopts precisely the same formatting as the display page for an item on Amazon, only all the 'product details', 'product description', and 'product reviews' relate to his professional experience.
For example, his lists the 'product dimensions' as 186cm, says that the item can be shipped anywhere in the world, and that you can choose between three languages: English, French, and Spanish. He even lists his best marathon time: 3 hours 22 minutes.
The average customer review is five stars, although there are a surprisingly high number of one star ratings. These were awarded by disgruntled girlfriends, as Dubost explained on Twitter.
Dubost has not named a price for himself. Although he initially included $999,999 as the 'list price', this has been crossed out. So, if you're interested in making an offer, better hurry: there's only one Philippe Dubost left in stock.