Radiohead rockers "appalled" no one will be held to account for crew member's death at concert venue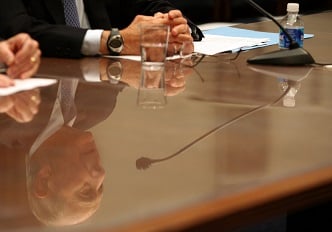 Radiohead band members say they are "appalled" no one will be held to account after a Toronto stage collapse killed a crew member five years ago.
Scott Johnson, a 33-year-old drum technician for the English band, died on June 16, 2012, when the band's stage, at Downsview Park, partially collapsed.
Three others were injured in the incident, which occurred hours before the band was due to perform.
Entertainment giant Live Nation, engineer Domenic Cugliari and contractor Optex Staging were charged with 13 health and safety offences in 2013. Their first trial ended in a mistrial.
Last week, Ontario Judge Ann Nelson ruled that there would be no second trial, due to the time that had elapsed.
"Any delay over 18 months is presumptively unreasonable," she said.
Nelson blamed "a failure on the part of the administration of justice" for the case being drawn out for so long.
"Such a failure impairs the reputation of our justice system. In a case such as this one, that failure also has a significant negative impact on the parties, those injured as a result of the stage collapse and most notably on the family of Scott Johnson.
"No doubt this decision will be incomprehensible to Mr Johnson's family who can justifiably complain that justice has not been done."
Radiohead responded with a post on its website, saying it was "appalled" by the judge's decision to stay the charges.
"This is an insult to the memory of Scott Johnson, his parent and our crew. It offers no consolation, closure or assurance that this kind of accident will not happen again."
Lead singer Thom Yorke also tweeted: "Words utterly fail me."
Want the latest HR news direct to your inbox?
Sign up for HRD Canada's daily newsletter
.
Related stories:
Poutinerie staff walk out over safety concerns
LCBO hit with $100K fine over worker injury