Disease could affect labour market, healthcare costs and demands, says chief science adviser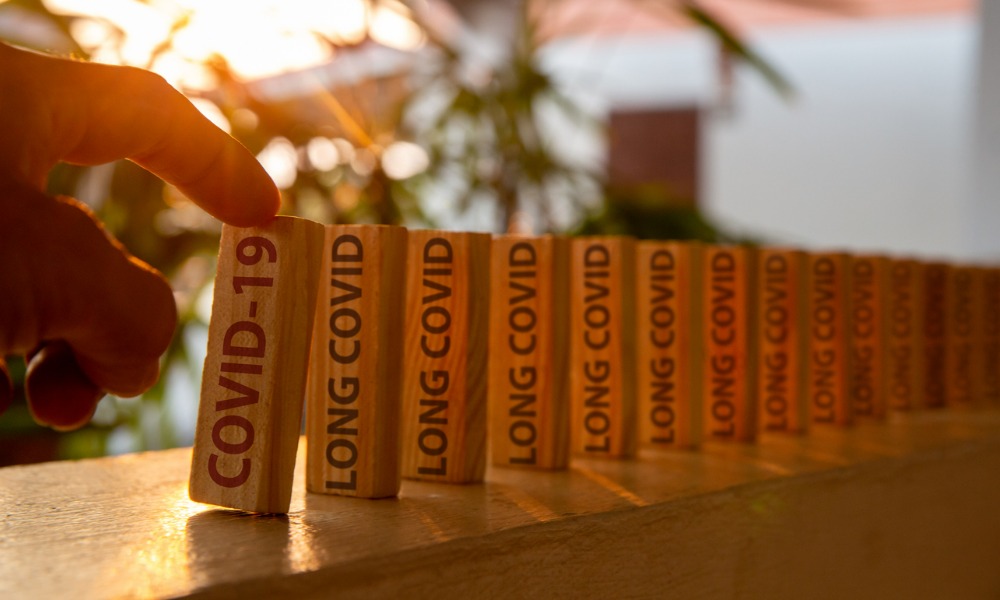 Post-COVID-19 condition (PCC) or long COVID can not only hurt the people suffering from the condition and their family, it could have a significant impact on the Canadian economy, according to a report.
This affects about 10% to 20% of those who get acute COVID-19 infection, according to Dr. Mona Nemer, Canada's chief science advisor.
And while acquiring the COVID-19 virus can have a dilapidating effect on an individual, the effect on those who experience long COVID is equally concerning, said Nemer.
Common symptoms that people with long COVID experience include: memory loss, blurred vision, mood disorders and neuropathies, may reflect irreversible cellular changes observed in aging or in some neurodegenerative disorders.
"Thus, PCC has the potential to become a mass-disabling event given the highly transmissible SARS-CoV-2 Omicron variant in circulation and the unpredictability of evolving future variants," said Nemer.
"Some patients have not recovered two to three years after the initial infection, and it is uncertain whether a proportion may ever fully recover."
There are over 1.4 million Canadians suffering from long COVID, almost 30 times more than the 46,000 people who have died from the virus over the past three years, according to the federal government.
'Significant impacts' on labour market
And people with long COVID are in bad shape in employment and life overall, as they also face a "high level of stigma," said Ron Damant, professor in the Faculty of Medicine & Dentistry at the University of Alberta, in a previous report.
Those who can no longer work can file claims for social assistance, disability supports and insurance, said Nemer.
"Future socio-economic implications for Canada may be far-reaching and require planning and monitoring," said Nemer.
"Analysis of the socio-economic impact of PCC from other countries, including the United Kingdom and the United States, indicates significant impacts on the labour market and the Gross Domestic Product (GDP), in addition to health costs and demands."
Nearly half (48%) of employees in the US had to take time off work to deal with "long COVID," according to a new report from workforce inclusion platform Inclusively released in December 2022.
Recommendations
In the report titled Post-COVID-19 Condition in Canada: What we know, what we don't know, and a framework for action, the COVID-19 task force – established by Nemer in July 2022 – made 18 recommendations to the federal government to address the situation.
One recommendation is for the government to scale-up and monitor effective prevention interventions, such as improving ventilation in schools, workplaces and public places as part of a first line of prevention of SARS-CoV2 infection and other respiratory/airborne pathogens.
Previously, HRD spoke with Catherine Bergeron, health and safety lead at Peninsula, who offered up some top tips on how to plan for a safe return to the office.
Other recommendations include:
As priorities, establish PCC diagnostic criteria, standardized assessments and clinical practice guidelines based on common definitions, in collaboration with national and international partners.
Update relevant policies and eligibility criteria to maximize the participation of people living with PCC in society, along with necessary supports and services.
Develop resources and tools that respond to the needs of people living with PCC their caregivers and their dependents, in partnership with persons with lived experience and community groups.
Develop, regularly evaluate, and adapt the effectiveness of PCC educational approaches for health care providers, particularly in primary health care.