Canadian employers need to 'adjust to keep workforce robust'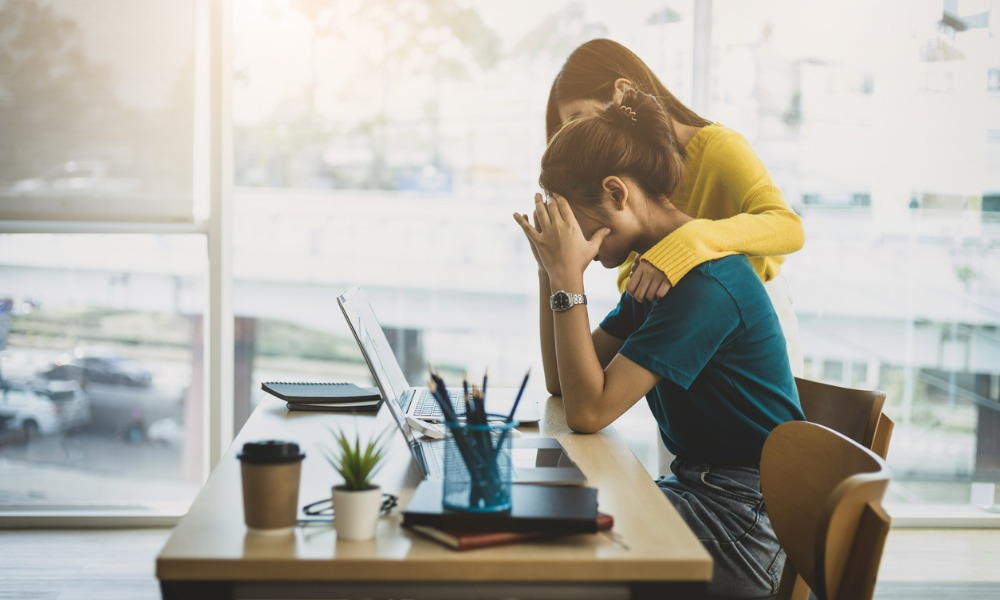 Unhealthy workplace environments are driving workers out – and women are more affected compared to men, according to a recent report.
Over seven in 10 (71 per cent) of Canadians have considered quitting their jobs due to burnout or stress, with 32 per cent actually quitting, according to The Prosperity Project.
More than three-quarters (77 per cent) of women say they have considered quitting their jobs over work-related issues, compared to 66 per cent of men.
Women are also more likely to say they quit their jobs because of stress or burnout than men (39 per cent vs. 25 per cent), and are also more likely to think of quitting their jobs at least occasionally than men (38 per cent vs. 30 per cent).
"Employers need to recognize and understand the stresses people are feeling, and adjust to keep our workforce robust," says Julie Savard-Shaw, executive director of The Prosperity Project. "A practical work-home balance, particularly for women with added burdens such as childcare, is critical to both retention and advancement."
Overall, 90 per cent of Canadians believe that burnout is prevalent in the Canadian workforce. A third (32 per cent) feel that many people are quitting their jobs due to burnout, 46 per cent feel that this is happening occasionally and 11 per cent feel it is happening but rarely.
Nearly three in 10 (28 per cent) workers are prepared to leave their employer in the next 12 months, due to poor work-life balance and lack of development opportunities, according to a separate report.
Promotions and work-life balance
Nearly six in 10 employed Canadians (59 per cent) are also looking to change their job levels to a more senior role, with about three quarters (76 per cent) being optimistic about this move.
Men are notably more ambitious (64 per cent) regarding the move to senior roles compared to women (55 per cent). They are also slightly more optimistic about it (78 per cent versus 75 per cent of women).
Meanwhile, seven per cent of those employed – nine per cent of women and five per cent of men – have taken or are considering taking a step back from their work, finds The Prosperity Project's 6th Canadian Household Perspectives survey covering 1,001 adult Canadians across the country conducted in April.
Most of the reasons for considering taking a step down are related to job stress (51 per cent), not feeling appreciated for the amount of work they put in (42 per cent) or not getting enough support at work (29 per cent).
And though the reasons are similar among men and women, women are more likely to:
experience work-related stress than men (57 per cent vs. 43 per cent
not feel appreciated at work (49 per cent vs. 33 per cent)
feel they don't have enough support at work (35 per cent vs. 22 per cent).
Over a third (36 per cent) of workers are actively looking for a new role, but resigning is particularly prevalent among quiet quitters, according to a previous report. In fact, 56 per cent of quiet quitters say they're searching for new roles. Only 28 per cent of non-quiet quitters say the same.
Work and chores
Personal responsibilities are also playing a role in workers' decision to stay or leave.
Working women find it more difficult to manage their households and work responsibility than working men (53 per cent vs. 42 per cent).
Childcare is a key concern. Mothers of kids under 13 years have considered quitting much more often than the fathers (80 per cent vs. 63 per cent). Over two in five (41 per cent) of mothers say they have left a job, compared to 24 per cent of the fathers.
Almost one-fifth of women specifically work hours that allow them to handle childcare as well as work (17 per cent vs. 6 per cent of men). More than a third of working mothers (35 per cent) say it is very difficult for them to arrange for childcare.