You won't believe how much this company is paying its staff to help recruit talent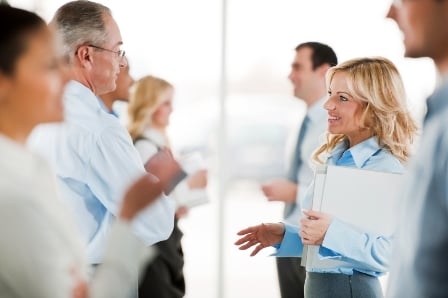 Next time you're desperately seeking talent, would you consider a finder's fee for staff to help recruit their networks?
And if so, what figure would you put on it?
For one company, $13,000 is the magic number – paid to both the referring employee, and the talent they bring in.
That's an eye-watering $26,000 per successful hire – but the company, TextNow, says it's worth it.
"We thought we should disrupt the area locally by making a referral bonus that is enticing enough for employees to spend the time but also for potential candidates to stop and take notice as well," says Lindsay Gibson, TextNow's chief operating officer.
The Waterloo, Ontario-based company runs a cloud-based mobile phone service that allows users to text, call and use data, without the need for a traditional carrier.
It's disrupting the mobile telco industry – primarily in the United States – and it's on the hunt for more talent to help its growth.
Enter the whopper referral bonus, launched in July.
So far, TextNow's received 44 referrals, made two hires, and is screening and interviewing the others, Gibson says.
"All of the high-tech companies locally have the same challenge: there's not enough talent, we're all fighting for the same talent. The one thing we don't have is the name
Google
," she says.
TextNow's chief executive settled on the $13,000 figure "because it's a prime number", but the company also wanted it to be generous enough to both grab attention, and to demonstrate to employees and candidates that it's serious about hiring great talent.
In the past, TextNow used recruiting agencies to find talent – but found they "didn't do as good a job of selling the company and promoting the company as our employees could do", Gibson says.
The company now holds lunch and learns for staff, where its internal recruiters explain what it is they're looking for, and "sourcing and beer" events, where staff bring their laptops, show recruiters their networks, and talk through which of their contacts might be a good fit – both work-wise, and culturally – and in which roles.
While paying out $26,000 per referred hire might send some HR professionals into shock, Gibson says it works for TextNow – though the company does plan to end the current bonus offering at the end of September.
She believes such a bonus scheme could work for any company, but they'll first need to put in legwork to define what it is they're looking for, and share that vision with employees.
"The hiring managers really are being very specific of what they're looking for, so that's a jump start for the people that are coming through the door as well – we're matching the skillsets with what we need."
Gibson adds that the bonuses aren't TextNow's only hiring strategy: it's also using traditional ads, social media, and running recruiting events.
"The tactic is not just throw $13,000 at it and think we'll get good people. It's one of those things that's part of the overall solution, and we have a very, very rigorous screening process – just because you refer someone doesn't mean [they] get the job."
Related stories:
Referrals may pose problems for diversity
How to win the recruitment race
Want the latest HR news direct to your inbox? Sign up for HRD Canada's daily newsletter.