As Mental Health Week gets under way, employers need to look closer at their wellbeing strategies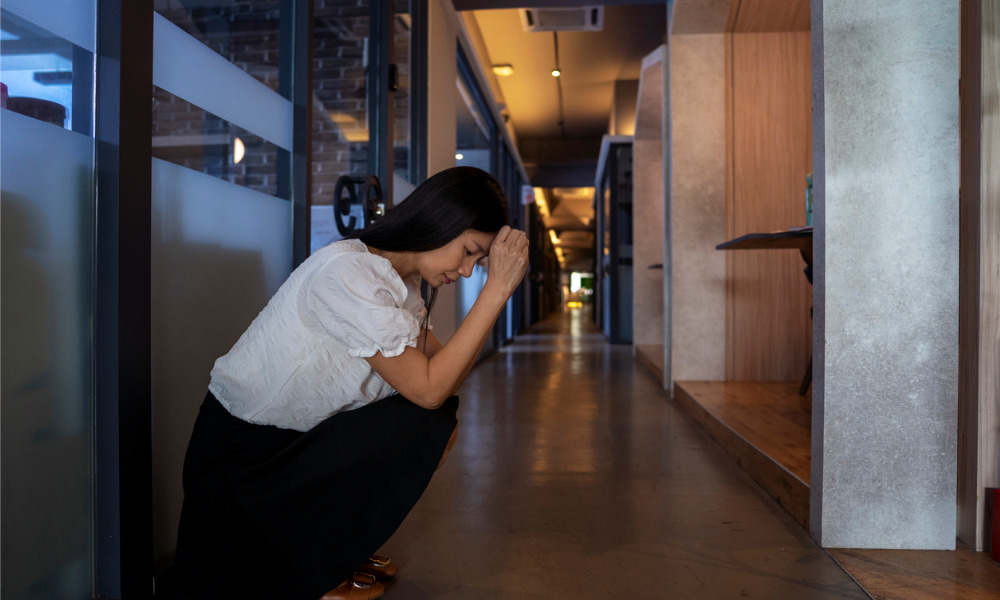 "There is a significant, ongoing mental health and addictions crisis in Canada."
This was the warning from the Ontario Association of Social Workers (OASW) as Mental Health Week begins. And according to the organisation, employers will play a role in promoting workplace wellness especially with employees retuning from remote work arrangements.
"It's important to know that the challenges people are facing have not been resolved just because we're entering a new phase of the pandemic," said OASW chief executive officer Seepy Sur. "As people return to the office, we're going to need to be mindful of this context and adopt new practices for the long-term."
And as Mental Health Week begins, the OASW has rolled out a string of advice for employers to help promote wellness in the workplace.
Provide mental health awareness training
According to the OASW, it is important to have courses like Mental Health First Aid to teach employees to learn to recognise signs of declining well-being
"Participants also learn safe ways to approach people and initiate conversations, as well as how to be supportive by listening non-judgmentally," said the OASW.
The advice came as more employees spend more time at work, with connections with colleagues becoming even more important as mental health care access can become sparse.
Lead with empathy
It is also important for members of the C-suite to show empathy amid blurred lines between professional and personal lives, according to the OASW. A recent study from the association revealed that nine out of 10 Ontarians want to see their leaders show empathy, a quality that some CEOs fear would make them feel less respected.
But for the OASQ: "The key attribute of post-pandemic leadership is empathy."
"Given that remote work has blurred the personal and professional in ways we haven't seen before, we encourage leaders to work hard to understand what their employees may be dealing with, and help combat the stigma by showing vulnerability themselves," said Sur.
Extend more trust
Leaders would also need to elevate their trust towards employees as they start inviting them back to workplaces. This is necessary as employees found different ways to do their work thanks to the pandemic.
"It now becomes the employer's role to figure out how to accommodate those changes," said Sur. "And that begins with conversations. Find out what their day at home looked like, what values are important to them and try to adjust for that. Many have prioritized their loved ones in remarkable new ways. A return to work doesn't change the importance of this."
Increase mental health coverage in workplace benefit plans.
In another advice, the OASW is also urging employers to introduce "stand-alone mental health coverage in their group plans worth a minimum of $1,500 per employee." According to Sur, there has "never been a bigger need for these benefits."
"We would like to see Canadian business leaders step up by doubling mental health benefits to a minimum of $1,500. If you don't have them, introduce them. And do it now. Your organisation and its most important asset – its people – will benefit."
Create an even more inclusive workplace.
Returning-to-office schemes are also great opportunities for employers to enhance their diversity, equity, and inclusion initiatives, according to the OASW.
The association made the remarks as recent studies show that racialized employees are more hesitant to return to workplaces, with expert believing it could be because remote works offers them protection from discrimination.
"We have to realize that racialized people and other marginalized groups are experiencing the pandemic – and its associated mental health impacts – differently than others."
In addition, workplace leaders should also consider flexibility in their return-to-office plans as more employees say this is the most important action their bosses took to support mental health.
"Workplace leaders should consider creating flexibility within their return-to-work plans to accommodate individual work styles and circumstances," said OASW.
Double down on communication.
Communication is necessary to consistently build trust, according to the OASW, as employees are three times more likely to report burnout without clear communication. OASW advised employers to "initiate informal and formal conversations," as well as authentic check-ins and team-building events.
"At OASW, we talk about creating a 'culture of conversation,'" says Sur. "Those conversations should be happening at every level, in multiple directions and across all channels."