Leaders in workplace harassment reveal how HR can identify and eradicate toxic behaviour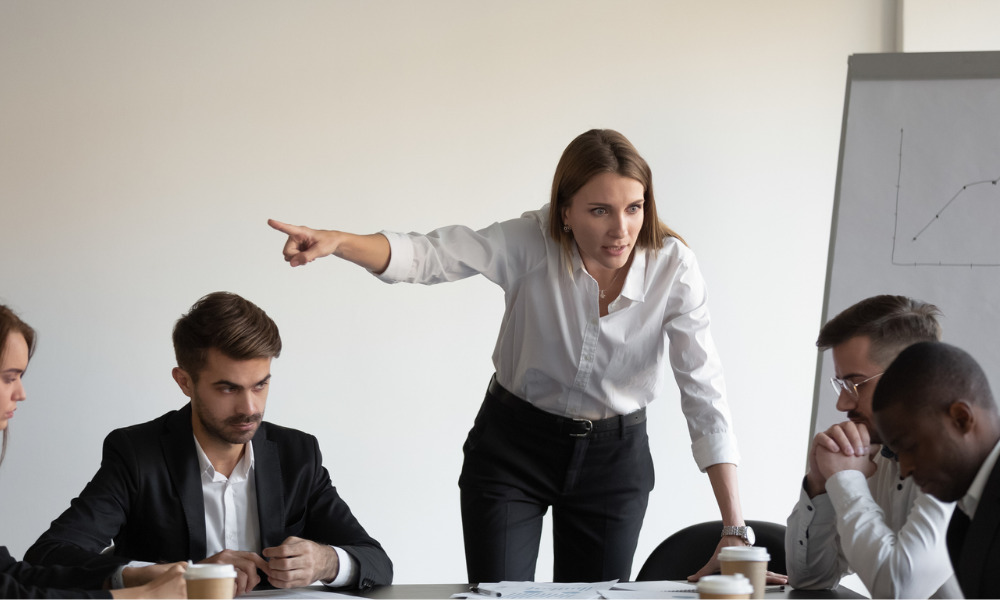 Every HR leader has their challenges - especially given the past 12 months. What can make matters even more difficult for an employer is when an unhappy employee makes it known that they are not comfortable in the work environment. This can be from an array of issues ranging from their job position, authority (or lack of), salary, benefits and their allocated duties. The question begs, how do you stop an employee's behaviour from instigating a toxic company culture?
"First, you need to remove your biases and perceptions before you attempt to have a conversation, as you will not be truly present and listen to what the employee has to say," Maureen Kyne, principal of Maureen Kyne & Associates, told HRD. "Remember it is the behaviour that you wish to correct so do not target the person as this will only end in anger and frustration. You need to set aside time to have a discussion without interruptions."
Kyne is a workplace bullying, sexual harassment and discrimination specialist who has worked with C-Suite and senior leadership teams across manufacturing, healthcare and local government sectors.
"It's important to listen to what is being said and ask for more information because generally the issue driving the behaviour is deep rooted - it's like peeling back the layers of an onion to get to the core of the problem," Kyne added.
"The behaviour you are addressing is behaviour that the employee has been modelling or conditioned to, questions the employer should ask; is this behaviour ingrained in other areas of the business? And if so it will need to be addressed more broadly? Once the behaviour has been identified with the employee, there needs to be a commitment from the employee as to what they are going to do to change this behaviour and also, what the employer is prepared to do to support this change, it's about working together."
Changing behaviour and culture is one of the hardest tasks in any business. If a bad culture has been ingrained, it is almost impossible to eradicate it without a complete management overhaul. On the positive side, if it is just one or two unhappy employees, then a detailed conversation understanding the predicament from where they see it, can go a long way to resolving the issues. Not every employee is going to be happy in a business, especially a big one, but there are policies you can put in place to help the company to move forward to create a better culture.
"There must always be a grievance procedure and a performance management - or disciplinary - procedure in place, however, policies are only as good as those that enact them," Ella Burke, founding director of Employii, HR & IR specialist, added. "Managers and team members should all be upskilled to manage these processes, so they understand how they work and what to expect. By decreasing the uncertainty around these processes, you can minimise some of the stress in what is already an inherently stressful situation.
"The biggest issue I see is not a lack of policy, it's people not having the skills to implement it according to HR best practice, and while still treating people like people. Employers should engage professional services as required."
Creating a calm and safe workplace is the next challenge in the process of having happy and contented employees.
"Considering one in five employees rate their manager or company 'horrible' at being open to and acting on feedback, creating a psychologically safe workplace is critical to performance," Emily Johnson principal psychologist and co-founder at Get Mentally Fit, told HRD. "Creating psychological safety in the workplace builds a stronger feedback culture where people are more likely to freely share their opinions and be fearlessly innovative."

If a difficult employee becomes too challenging to move or replace or you are having to factor them into a slow process of evaluation and perhaps even manage them out of the firm, you still need to consider the needs of the employees around that person.
"Difficult employees are often oblivious to the effect they have on others," Johnson said. "This may be due to their work colleagues never 'calling them out' on their behaviour or attitude. Therefore, it's important to address any behavioural conduct that is deemed inappropriate or damaging to others. Fundamentally because if you ignore a particular negative behaviour, you're sending a non-verbal message that you condone it. In the case of the employee being toxic, consider Minor's 'immunising' approach with discretion. Minor suggests removing the other team members from this person. For example, do things such as rearrange desks, reassign projects, schedule fewer all-hands meetings, or encouraging more work-from-home days. You'll soon see the situation start to improve."