It might sound like good news if your older workers aren't heading out the door, but there are good reasons for companies to support their workers towards retirement.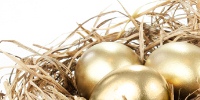 Four out of five Canadians intend to work at least part time past retirement age, with most saying the need for money is their key reason. It's perhaps not surprising considering almost half are not contributing to their RRSPs.
A study from BMO Financial Group found 81% of Canadians planned to work after 65, and 75% of those said the need for additional income was their top reason.
"It's clear that many Canadians are looking to generate additional income during their retirement years," BMO wealth planning group manager Marlena Pospiech said. "With the decline in employer-sponsored defined registered pension plans and reforms to government pension plans, there's now a greater need for people to supplement their income during retirement to compensate for that income gap. This is particularly true for those who haven't been saving aggressively for retirement through retirement savings vehicles such as RRSPs and TFSAs."
And that group is large, according to data from a Scotiabank survey released this week, which found that while 65% of Canadians say their registered retirement savings plans will be their source of retirement funding, but half (4%) do not plan to contribute to their RRSPs this tax season.
In addition to RRSPs, top sources of retirement funding include savings (60%), the government (57%), work pensions (52%) and selling their home (22%).
Two-thirds of those who expect to retire said they are concerned about not having enough money to support their retirement (68%), found the survey of 1,003 people. A third (33%) said they have pushed back their planned retirement age because of the state of the economy.
It's a concern for HR for two main reasons: financial stress is the number one distractor for employees at work; and your company needs to make sure that older employees are not working past effectiveness.
The main motivation behind most employers' pension funds was to attract and retain employees, but it was also important for companies to maintain a turnover of staff, Kevin McFadden, President of Sigurdson McFadden Benefits & Pensions, told HRM. As older employees reached retirement age, they may choose to keep working if they are not adequately prepared for retirement.

"Due to age or health reasons their productivity may be lower so another reason to make sure your employees are prepared for retirement is to recognize that there will come a time when more productive employees should be taking over," McFadden said.