Can now prescribe treatments for 19 common ailments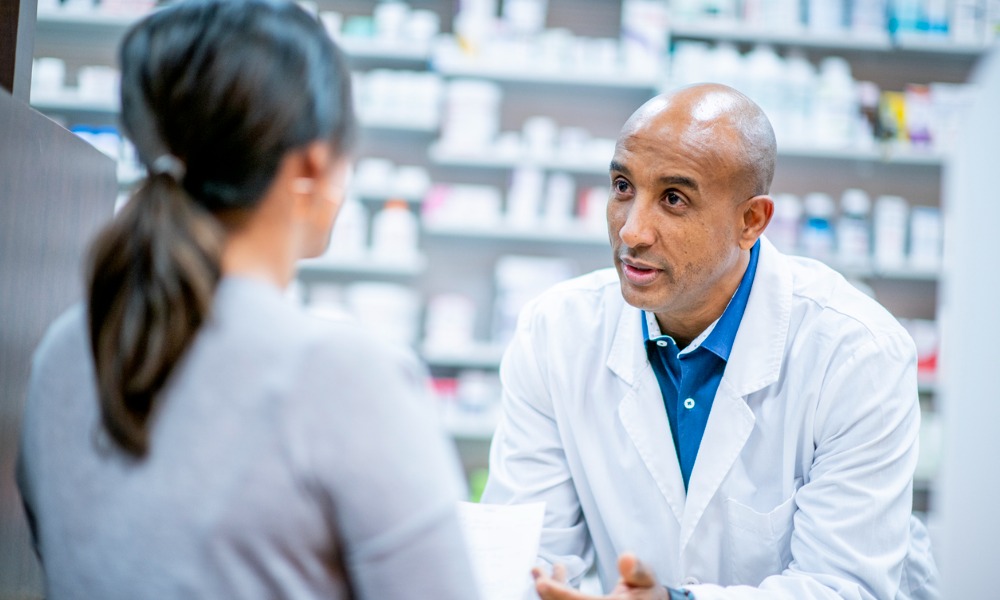 Workers in Ontario will have an easier time accessing the treatment they need to ensure they are healthy for work, thanks to recent changes made by the provincial government.
The government is allowing pharmacists to treat and prescribe medications for six common medical ailments, on top of the 13 they have been allowed to treat and prescribe medications for since the start of 2023.
Pharmacists can now attend to:
acne
canker sores
diaper rash
yeast infection
parasitic worms (pinworms and threadworms)
nausea and vomiting in pregnancy.
"Expanding the list of common ailments pharmacists can treat, people will now get faster, more convenient access to the care they need closer to home, while helping to further reduce wait times at our community clinics and hospitals," says Sylvia Jones, deputy premier and minister of health. "Pharmacist prescribing has been a huge success and Ontario is now one of the leading jurisdictions in Canada in providing convenient health care services through pharmacies."
Recent changes by the province also allow pharmacists to administer certain injection and inhalation treatments so that they can better care for people who need help taking certain medications, such as insulin, vitamin B12, or osteoporosis treatment. Ontarians can now access this service at their local pharmacy for a professional fee, similar to fees to receive travel vaccines.
These changes are being made in partnership with the Ontario College of Pharmacists.
400,000 assessments, reduced wait times
Since Jan. 1, pharmacists in Ontario have been able to provide prescriptions for:
hay fever (allergic rhinitis)
oral thrush (candidal stomatitis)
pink eye (conjunctivitis; bacterial, allergic and viral)
dermatitis (atopic, eczema, allergic and contact)
menstrual cramps (dysmenorrhea)
acid reflux (gastroesophageal reflux disease (GERD))
hemorrhoids
cold sores (herpes labialis)
impetigo
insect bites and hives
tick bites (post-exposure prophylaxis to prevent Lyme disease)
sprains and strains (musculoskeletal)
urinary tract infections (UTIs).
Ontarians can now also visit local pharmacies for Paxlovid prescriptions.
Since being allowed to do so, 89 per cent of Ontario's pharmacies have been treating common ailments, providing over 400,000 assessments. Overall surgical waitlists continue to decline and the average length of stay for patients admitted to an emergency department has decreased over the last year, according to the provincial government.
In 2019, Grant Alexander Wilson, of the Department of Management & Marketing at the Edwards School of Business at the University of Saskatchewan in Saskatoon, claimed that expanding pharmacy services increases both health-care and profit outcomes.
Pharmacies welcome changes in Ontario
Several stakeholders welcomed the new rule announced in Ontario.
"Expanding the role of Ontario's pharmacists is another significant step towards connecting Ontarians to the care they need, right in their own communities," says Jeff Leger, president of Shoppers Drug Mart. "This announcement aligns with our commitment to improving access to care for patients and we are proud to work with the Ontario government and the Ontario College of Pharmacists to make these positive changes."
Nicolas Caprio, president of Rexall Pharmacy Group, says that pharmacies have proven to be crucial healthcare destinations in the province.
"Acknowledging the vital contribution pharmacists make in delivering accessible healthcare, we are excited about further broadening our pharmacist services and expanding our scope of practice to address six additional minor illnesses. This expanded scope of care will continue to enhance our commitment to support our communities, alleviate healthcare system pressures, and continue to improve the well-being of Ontarians."
In 2021, the introduction of a national universal pharmacare program for Canada took a further step after Ottawa and Prince Edward Island signed an agreement. In August this year, Mark Holland, Canada's health minister, said that legislation around Canada's universal pharmacare program is coming before the end of this year, if things go as planned.