What's the best pension plan for attracting and retaining senior staff?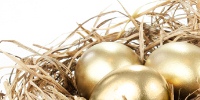 With an aging population, competition for experienced staff is getting fiercer and having a good pension plan in place can make a big difference to the 40+ cohort.
The most attractive pension plan for workers is the defined benefit because the employee has no uncertainty about how much they'll have to live on and whether they'll be able to live well after retirement. Unfortunately there are a number of downsides for the employer with defined benefits.
"From an employer's standpoint the defined benefit plan just seems to have far more downsides for employers than upsides," Investors Group expert David Ablett. "The biggest problem with defined benefits plan in the private sector the issue for the employer is the uncertainty with respect to funding levels."
Employers often prefer defined contribution because of the certainty around budgets and spending. Following the global financial crisis, many organizations found themselves having to put more and more resources into meeting their defined benefit plans. Many companies with defined benefits are cutting back and gradually withdrawing the option from its incoming staff.
So how can HR balance the company's need for certainty, with the need to attract skilled and experienced staff? Ablett suggested companies could compromise with a two-tiered approach including an incentive for individual contributions.
"For example, the company could say we will fund a defined benefit plan that will give you 1% of your career average earning, multiplied by your credited service. However, if you as an employee are willing to contribute to that plan, we will increase the benefit accrual rate from 1% to 1.5%," Ablett said. "It protects employer, because they are only agreeing to fund a base level benefit – may not provide any indexation or supplemental benefits so they can minimize their costs."
Pensions are a serious consideration for workers in their 40s and 50s, and can be the decision making factor in whether they change jobs, so having a good plan in place can attract the best experienced team.
If your company heads aren't comfortable with the uncertainty of defined benefits, Ablett suggested having a generous employer contribution on a defined contribution plan. For example, offering an employer input of 5% of salary, regardless of whether the employer contributes, and matching employee contributions up to 8%. It shows employees they're valued and are getting a generous deal, but your company has certainty around its annual pension costs.