Government proposes employment standards for gig workers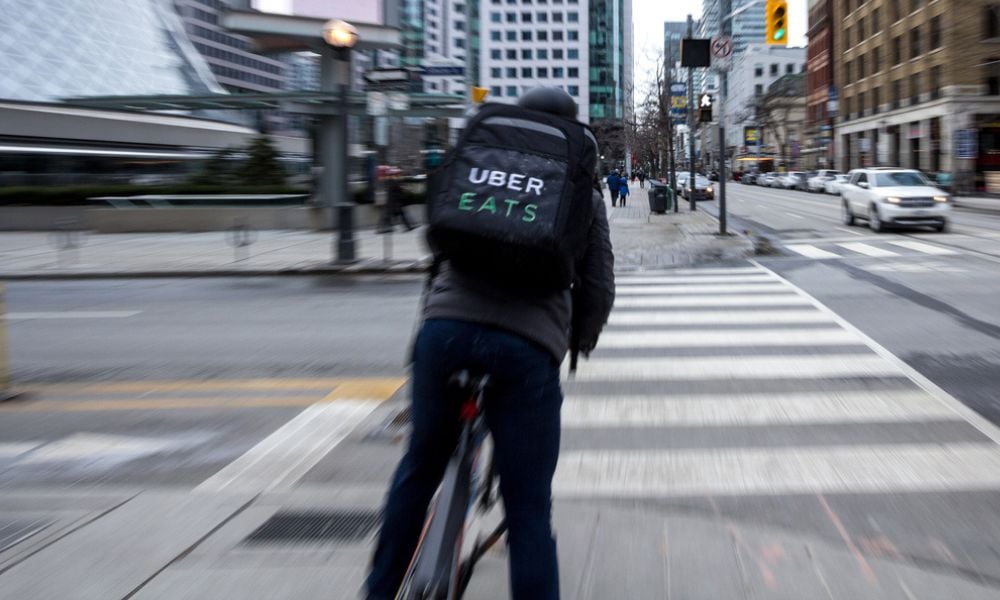 Aiming to "bring fairness and predictability" for workers in the gig economy, the British Columbia government has proposed employment standards for gig workers in the province.
"The workers who appear at the touch of a button to drive us home or deliver our dinner deserve to be treated fairly," said Harry Bains, minister of labour. "That's why we're taking action to address the problems that the workers themselves raised. We know how important these services are to people in B.C. and our goal is to balance the needs of workers while supporting the continuation of these services."
The government is proposing amendments to the Employment Standards Act (ESA) and the Workers Compensation Act (WCA) to define online platform workers, and to ensure that ride-hail and food-delivery workers will be considered employees, specifically for the purposes of the ESA and WCA.
"To protect the flexibility that workers value and address their top priorities, alternate standards for this industry will be created within the ESA while some of the Act's existing provisions will not apply at this time," said the government.
The Canadian Freelance Union is looking to support workers classified as contractors.
Minimum wage, tips protection, pay transparency
Under the proposal, ride-hailing and food-delivery workers will earn a minimum rate equal to 120% of B.C.'s general minimum wage (currently $16.75), applied to engaged time. The government added the 20% premium because engaged time does not include the time spent waiting between assignments.
Should the workers' earnings for a pay period not meet the minimum earnings standard for the engaged time worked, platform companies will top up the difference.
Tips are not included in the minimum earnings calculation. Companies will also be prohibited from withholding tips or making deductions from tips.
The proposal is also looking to require platform companies to offer an assignment to a worker to ensure that the worker can see the earnings for completing the assignment. Employers will also be required to provide workers with wage statements every pay period so workers can ensure they are paid correctly.
When it comes to expenses, B.C. will establish an additional compensation standard to recognize the costs that workers incur when using a personal vehicle for work. The Ministry of Labour will be consulting with workers, platform companies and others to determine an appropriate compensation standard.
Terminations, workers' compensation coverage
Platform companies will also be required to provide all pickup and delivery locations for each assignment. This will allow workers to assess the desirability and safety of assignments before accepting them, according to the government.
When it comes to platform companies suspending or deactivating workers' accounts, the employers will be required to inform a worker in writing of the reason behind the decision. Platform companies must also provide a review process that allows workers to present their side and supporting evidence. In response to a review, companies must provide a written explanation of their final decision.
Platform companies will be required to give written notice or compensation for length of service if they want to terminate a worker's account "unless there is just cause for the termination," said the government.
Also, B.C. is extending workers' compensation coverage from WorkSafeBC to ride-hailing and food-delivery workers. Workers will be eligible for workers' compensation benefits, including vocational rehabilitation services, for work-related injuries.
Platform companies will be responsible for:
registering for coverage with WorkSafeBC and paying premiums;
following health and safety rules to keep workers safe;
reporting injuries and diseases; and
investigating significant incidents.
And while standards in the following areas will not be established at this time under the ESA for ride-hailing and food-delivery workers, the government will continue to monitor these areas:
hours of work and overtime;
statutory holidays;
paid leaves; and
annual vacation.
Earlier this year, Northwest Territories also sought public feedback on its Employment Standards Act, including issues around protections for gig workers.
'Pay that reflects our hard work'
A couple of stakeholders welcomed the B.C. proposal for gig workers.
"This is the first, and a very crucial, step towards recognizing us as hardworking individuals," said Inder Raj Gill, ride-hailing driver, Vancouver. "We can look forward to receiving a fair resolution process, pay that reflects our hard work and basic rights and benefits, just like any contributing member of society."
"Hearing that government is moving forward with solutions to problems we face makes me feel like my work is respected and that someone has my back," said Vineet Singh, food-delivery driver, Victoria. "I will benefit from each one of the improvements and I know many friends and other workers who will also feel supported when these changes happen."
Nine in 10 employees vow to continue "gig jobs" until retirement, according to a previous report.
Twenty-one ride-hailing companies are licensed to operate in B.C., including multi-national companies such as Uber and Lyft, and locally operated companies such as Coastal Rides and Whistle! The government estimates there are currently about 11,000 ride-hailing drivers and 27,000 food-delivery workers in B.C.