Command and control management is falling by the wayside. Here's what's replacing it.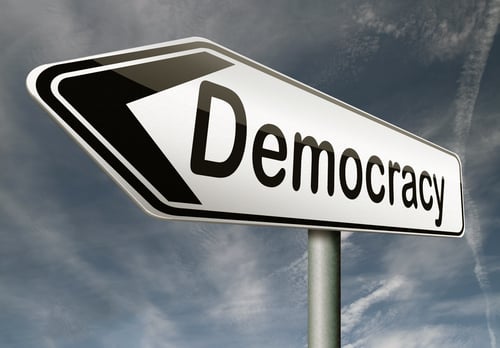 "Management is far too important to leave to managers," HR guru Paul Cochrane once stated.
Cochrane's words echo the trend of workplace development currently sweeping corporate entities worldwide. One pertinent example is the Swiss software company Haufe-umantis, who recently held a poll for employees to vote on whether the CEO should remain with the company or appoint a successor.
In fact, experts at WorldBlu have identified several factors contributing to the proliferation of workplace democratization, including:
Internet transparency, which allows workers to feel empowered
Entrance of Millennials, who expect their voices to be heard
Regulatory measures passed after the global financial collapse
Increased emphasis on corporate social values and responsibility
The rise of individualized services in workers' personal lives, such as internet radio and Netflix
Some analysts are comparing the transition to one from a hamburger to burrito. In the hamburger hierarchy, the management (bun) holds the patty (employees) firmly in place, whereas in the burrito structure, a thin layer of supervisors (tortilla) holds employees together, but also allows them some freedom and movement.
In addition, they argue that democratized work environments have clearer lines of accountability and as a result, can accomplish decision-making and execution more hastily.
"I have long been against overmanagement, and matrix management in particular," said Les Heyman, cofounder and co-CEO of Chief Executive Organization Ltd. "A complex multifaceted matrix creates confusion in employees as to where loyalties lie, amid ongoing turf wars as to who has the strongest line to the employee."
Still, he advises that structure is still needed to provide feedback, offer advice and support, and ensure that divisions are properly aligned.
"Structure is less important in a burrito, but it is still necessary," said Hayman. "Besides the thin, unobtrusive layer (the management), it needs a proper technique for rolling it up and holding all the ingredients (the employees) together."
For more,
click here
.