Train operators' sleep patterns and decision-making ability flagged in Transport Canada guidelines weeks before deadly train explosion.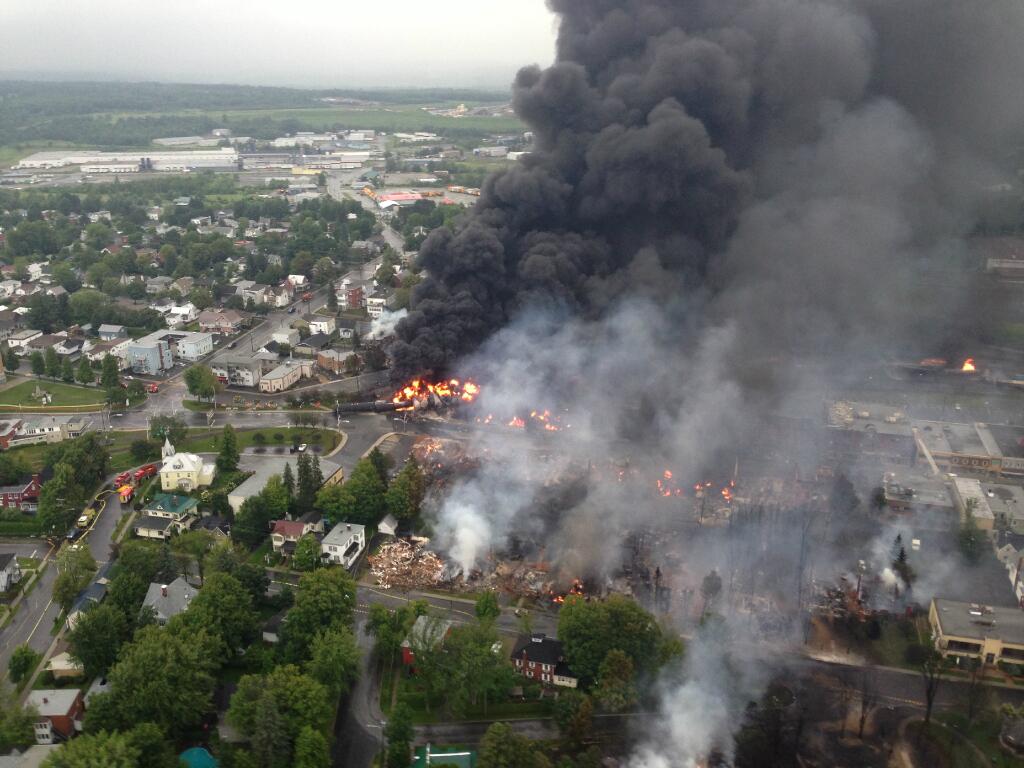 Just months before the fatal Lac-Megantic train disaster, a Transport Canada report raised concerns that single-person train operations could be at risk from operators' fatigue, sleep patterns and decision-making ability.
The Transport Canada guidelines, released in May 2013, were designed to help staff evaluate risk assessments filed by rail companies with single-operator run trains.
The guidelines include "human factors" such as amount of sleep, health, age, lifestyle and workload demands, as well as best practices for managing them, according to records obtained by the Canadian Press under the Access to Information Act.
On July 6 last year, a 72-car train parked for the night came loose and rolled into the town of Lac-Megantic, Que., creating a fireball that killed 47 people, destroyed buildings and contaminated waterways. The now-defunct Montreal, Maine and Atlantic Railway Ltd. and three employees of the company - including the train's sole operator - face charges of criminal negligence causing death.
Continued...
#pb#
The federal Transportation Safety Board report into the accident is due to be released today and is expected to focus on safety practices.
In a recent review of fatigue-reduction best practices, HRM Online reported the following steps for reducing workplace accidents:
Obtaining employee feedback regarding preferable work schedules
Creating a fatigue management plan with effective strategies for relief, such as calculated naps, physical activity, and frequent short breaks
Designing training programs that encompass tips for sleep maintenance, nutrition, work/family life balance, and proper use of stimulants
Designating a quiet, temperature-controlled room equipped with eye masks and ear plugs for on-site resting
Ensuring that dangerous tasks are completed during ordinary work hours, or with special precautions and safeguards
"Each individual has his or her own tolerance for fatigue-inducing activities, but establishing guidelines and internal mandates can help the vast majority of employees minimize working when fatigued and insulate the company from fatigue-related risks," Leslie Tarnacki, vice president of HR at WorkForce Software, told HRM.