Restaurant prices will rise while service will suffer as owners struggle to keep businesses afloat, expert says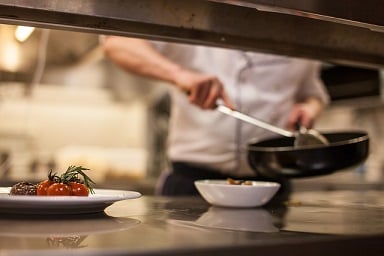 Sorry, diners: if Ontario's minimum wage rises, you can expect restaurant service to go in the opposite direction.
That's the warning from an industry recruitment expert, who says restaurateurs have "grave concerns" over plans to raise the minimum wage to $15 from January 2019.
"One thing that certainly is a common thread, is the concern that in order to survive, service levels might need to go down, in addition to raising prices, and nobody wants to do that, obviously – it's such an important part of the hospitality business," says Ross Horton, owner of hospitality recruitment company Patrice and Associates.
"Any time costs go up in a business where the average margin is 3.5 percent, it puts a lot of pressure on the bottom line, and requires changes in other areas – whether it's pricing or cost-saving or reducing hours or service levels."
He adds that restaurant owners aren't opposed to lifting the minimum wage, but they are concerned about the jump from $11.40 an hour currently to $15 in just over a year's time.
"There just needs to be a little more consultation, a little more thought, a little more time provided to make sure that this is done properly. Give people the opportunity for a little more feedback."
An independent economic analysis of Bill 148, commissioned by the Keep Ontario Working lobby group, suggests 17,300 hospitality jobs are among an estimated
185,000 Ontario jobs "at risk"
from the wage rise.
Horton says that's "gravely concerning" to restaurant owners, some of whom estimate the increased wage cost will be far greater than their pre-tax profit.
"If the number of restaurants and hospitality businesses that are anticipating that they might not be able to survive or choose to exit the industry to do something else, if those numbers come to fruition, then it would certainly affect our business, as well as any suppliers to the hospitality industry."
Horton says his Niagara-based company – which primarily recruits managers for restaurants, hotels and other hospitality businesses – hasn't seen a drop in business resulting from the Ontario wage rise plan, though he adds: "There's always a need for those people. It's the owners and the managers of the businesses that are trying to figure out how to operate in the new environment".
"Whether or not, ultimately, in the longer term, there's a trickle-up effect of, when they're looking for cost savings, whether management positions get combined, that sort of thing, is yet to be seen, but obviously anything that affects the health of the industry is of great concern to us."
Related stories:
Minimum wage hike will see jobs, hours cut
How McDonald's Canada bucks the turnover trend
Want the latest HR news direct to your inbox? Sign up for HRD Canada's daily newsletter.