Internal messages from news station WDBJ7 have revealed that the gunman who killed his former colleagues yesterday had been 'aggressive' at work.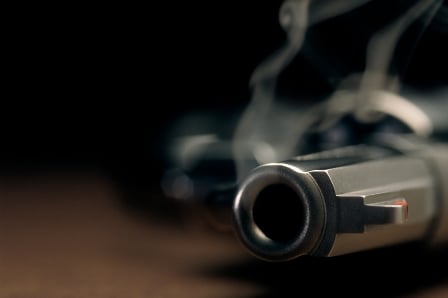 Footage of a shooting that took place on live television in the US yesterday has gone viral, and it has since emerged that the perpetrator was motivated by a grudge he held against his former colleagues and employers.
Vester Flanagan shot reporter Alison Parker and cameraman Adam Ward on Wednesday morning in Virginia, US. Both victims were killed at the scene.
He then shot himself, and later died in hospital.
Flanagan is reported to have previously made claims of grievances around racial mistreatment against news station WDBJ7 – which is supported by the statements he sent out on social media following the attack.
After the shooting, he took to Twitter to make comments about his victims.
"Alison made racist comments," he alleged. "They hired her after that???"
"Adam went to HR on me after working with me one time!!!"
In documents obtained by
The Guardian,
Flanagan's relationship with his colleagues and a series of misconduct during his tenure at WDBJ7 were detailed.
According to the memos, Flanagan was told by his bosses to seek medical help following complaints from co-workers about his behaviour.
The internal messages, sent by former news director Dan Dennison, detailed numerous conflicts that had occurred.
Flanagan was reprimanded for "lashing out" at a colleague, as well as his use of "harsh language" and "aggressive body language".
On July 30, 2012, Dennison instructed Flanagan to enrol in an employee assistance program with the company Health Advocate.
"This is a mandatory referral requiring your compliance," Dennison told him. "Failure to comply will result in termination of employment."
Later that year, Dennison emailed employees to inform them that he had given Flanagan a final warning, stating that he was "not entirely sure where [Flanagan's] head is at".
Three months later, Flanagan was fired, leading to a lawsuit against the company.
In March 2014, Flanagan filed a civil lawsuit against the station, alleging racial and sexual discrimination.
The case was dismissed later that year.
Flanagan's next course of action was to send a letter to City General District Court Judge Francis Burkhart, in which he claimed he had been the victim of a "carefully orchestrated" attempt by co-workers to have him "ousted".
He claimed he was upset that a staff photographer had reported him to the HR department after working with him once.
Earlier this month, Flanagan named Ward online as the photographer who he believed reported him to HR.
He also claimed "racial harassment", and treatment that was "nothing short of vile, disgusting and inexcusable".
In light of the shooting, Parker and Ward's colleagues have expressed their shock and sadness via social media. Parker's partner said that he was "comforted" by his "family" of co-workers.
If you or someone you know needs help, contact
The National Suicide Prevention Lifeline (suicidepreventionlifeline.org)
on
1-800-273-TALK
.