Earlier today, the leaders pledged to boost female participation by addressing the barriers faced many women.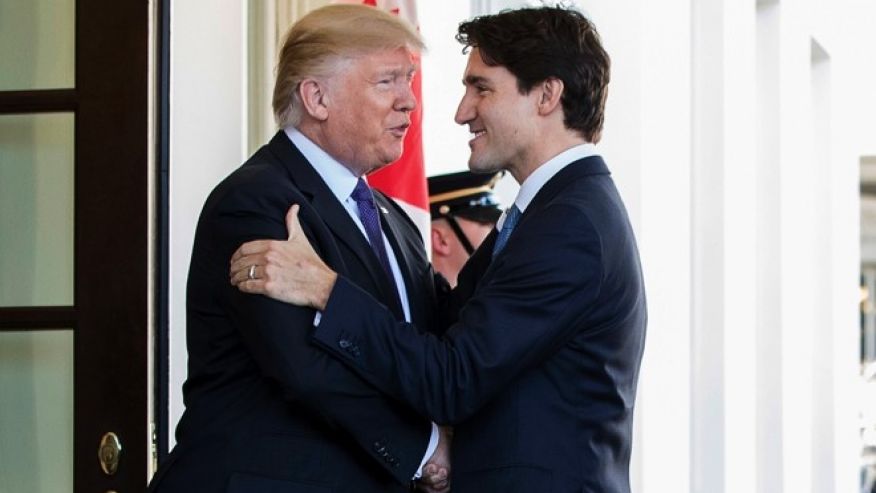 Prime Minister Justin Trudeau and President Donald Trump are teaming up to boost women in the workforce, calling female participation a key to economic growth.
``In order to create economic growth and lots of very good well-paying jobs, we must ensure that our economy is a place where women can work and thrive,'' Trump said Monday during roundtable talks with Trudeau and women business leaders.
The pair announced the creation of a Canada-United States Council for Advancement of Women Entrepreneurs and Business Leaders, a joint initiative meant to help businesses owned by women as a way to contribute to economic growth, competitiveness and the integration of the two economies.
The Prime Minister's Office says the council will recommend ways to remove barriers to increasing competitiveness for women entrepreneurs, as well as tackle issues affecting women in the workforce – including those in senior leadership positions.
``We need policies that help keep women in the workforce and to address the unique barriers faced by female entrepreneurs – and they are unique,'' said Trump, who opened the meeting by noting that he had employed several women as executives in his companies prior to becoming president.
``We need to make it easier for women to manage the demands of having both a job and a family and we also need to make it easier for women entrepreneurs to get access to capital.''
Trudeau said that he has heard similar complaints about such barriers, as well as ideas for potential solutions, from the female business leaders he has met on his travels.
``Whenever I sit down with a woman executive, I know that she has had to overcome significant barriers that exist and therefore is likely to have greater insight into how to ease those barriers for others, but also be a formidable contributor to the success of business and our economy,'' said Trudeau.
``For me, it's not just about doing the right thing, but understanding that women in leadership can be a very powerful leverage for success for business, for communities and for our entire economy.''
A senior Liberal government source said the idea for the roundtable came from Katie Telford, chief of staff to the prime minister.
Dina Powell, who is assistant to Trump and his senior counsellor on economic initiatives, as well as Jared Kushner _ a senior adviser to the president who also happens to be Trump's son-in-law _ then got involved in making it happen.
The president's daughter, Ivanka, who is married to Kushner and was a champion of child care and maternity leave during Trump's campaign, was also at the meeting, seated next to Trudeau.
She said she looked forward to hearing insights on how to ``level the playing field'' for women in business.
The high-profile women at the roundtable meeting included Telford and Foreign Affairs Minister Chrystia Freeland.
The council will be made up of 10 female executives _ half from Canadian companies and the other half from American companies.
The Canadian members include CEOs Elyse Allan of GE Canada, Dawn Farrell of TransAlta Corp., Linda Hasenfratz of Linamar Corp. and Tina Lee of T&T Supermarket Inc., as well as Monique Leroux, chair of the board of directors from Investissement Quebec, are also around the table.
The Americans are CEOs Tamara Lundgren, of Schnitzer Steel Industries, Inc., Julie Sweet, from Accenture and Annette Vershuren, of NRStor Inc., Mary T. Barra of General Motors and Indra Nooyi of PepsiCo.
Most of them were at the meeting.