Global uncertainty has workers worried yet employers continue to ignore the issue, said the PM.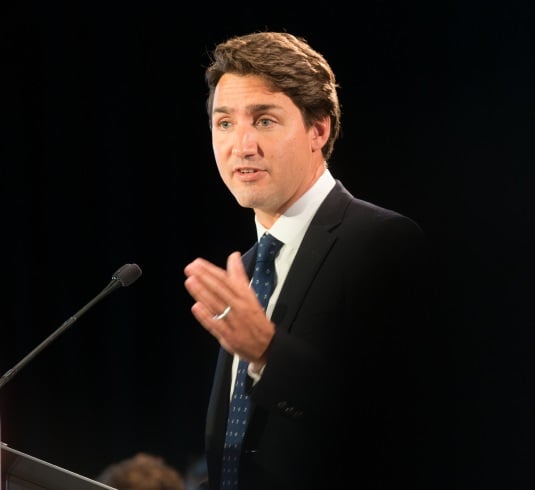 Prime Minister Justin Trudeau has used one of Germany's most prestigious black-tie galas to berate top business leaders, telling them to "get real" about addressing widespread worker anxiety.
"No more brushing aside the concerns of our workers and our citizens," Trudeau said at the annual St. Matthew's Banquet. "We have to address the root cause of their worries and get real about how the changing economy is impacting peoples' lives."
Over the last week, Trudeau has spoken repeatedly in Europe about the need for leaders – both political and corporate – to address the fears working people have about rapid change and globalization.
However, he ramped up the rhetoric at the 700-year-old event and even adopted language more commonly employed by anti-trade movements.
"When companies post record profits on the backs of workers consistently refused full-time work – and the job security that comes with it – people get defeated,'' he said.
"Increasingly, inequality has made citizens distrust their governments, distrust their employers," he added. "It turns into 'us versus them.'"
The Liberal leader also called on employers to take long-term responsibility for workers, their families, and the communities in which they operate.
"For business leaders, it's about thinking beyond your short-term responsibility to your shareholders," he said, "It's time to pay a living wage, to pay your taxes and give your workers the benefits – and peace of mind – that come with stable, full-time contracts.''
Trudeau also urged employers to help staff "modernize their skills for a changing world" and said business leaders should be nothing but supportive when hearing of an employee's pregnancy.
"When you hear that an employee is expecting a child, congratulate her," he said. "Don't make her question whether or not she'll have a job to come back to."