Following in Starbucks' footsteps, Mayor John Tory says he'll personally thank any employer who takes up his 10 per cent challenge.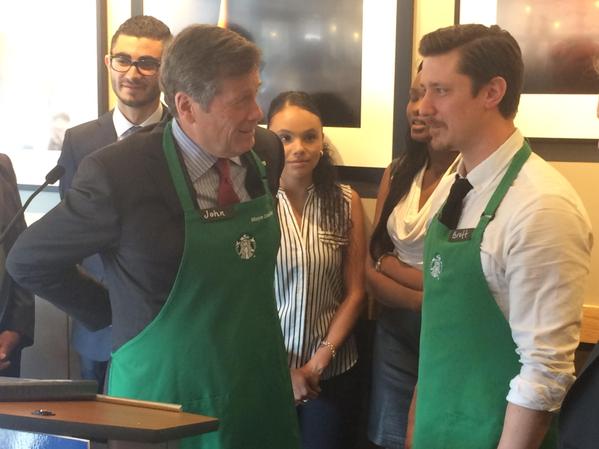 Mayor John Tory announced yesterday that Toronto would be partnering with
Starbucks
Canada to put more young people to work. Now the city's newest leader says if others follow suit, they can look forward to a personal visit from the man himself.
"I will personally show up at any place of employment and thank any employer [if they meet my challenge]," he said.
Tory's challenge requires employers to recruit at least one young person for every 10 new hires – something Starbucks Canada has pledged to do in Toronto.
The coffee chain will be working alongside the Partnership to Advance Youth Employment (PAYE) in the initiative which is expected to bring 150 new job opportunities, at a minimum of 20 hours per week, with full benefits.
"This is good for business, good for youth, good for the economy – but it's not enough," said Tory, before asking other employers in Toronto to step up.
"I know employers have the muscle and the heart," he said. "I need them to step up to the plate and flex that muscle."
The youth unemployment rate in Toronto currently stands at around 20 per cent – way above the national youth unemployment rate of 13 per cent and Canada's overall unemployment rate of 6.8 per cent.
"It's unacceptable," said Tory of the high rate. "It's just plain bad."
During his election campaign, Tory promised to double the size of PAYE before 2016 – to date, there are about 100 new employers in the program.
Tory said so far this year he has attracted 19 new employers and has had 13 employers renew and/or expand their participation in the youth jobs program.
More like this:
How to settle employee disputes
Childcare accommodation – increased uncertainty for employers
Bias against obese people on the rise