Staff lined the corridors for a standing ovation as the phenomenally popular leader made his way into the officer for a final time.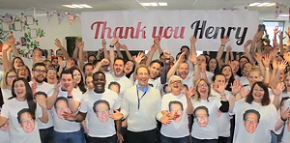 A phenomenally popular CEO has received the send-off he deserved after staff lined the corridors to give a standing ovation – wearing somewhat unusual t shirts.
After 25 years at the helm of Admiral Insurance, Henry Engelhardt was greeted with rapturous applause the moment he arrived in the company's underground car park.
Hundreds of employees, all kitted it in t-shirts sporting the CEO's face, continued the clapping as he entered the lift and walked to his office.
A banner reading "Thank you, Henry," also greeted the clearly gob-smacked and overwhelmed boss who laughed and shook his head in disbelief.
"You're lucky I don't start at 7:30," joked the 58-year-old.
Engelhardt, the son of a meat-packer, founded The Admiral Group in 1993 - the UK-based firm has branches in Spain, France, Italy, and the US and is known for its employee-friendly culture.
"I made a dedication to myself that if I could help it, I would never again work somewhere where I was unhappy," the fun-loving leader said in an interview with the BBC back in 2014. "This is because it is simply very difficult to flip a switch and then be happy when you aren't in work."
Engelhardt is renowned for his philanthropic leadership and earlier this year, he and his wife Diane announced they would be personally giving a cash thank you of either £500 or £1,000 to each employee in Admiral's global workforce – with an employee-base of approximately 8,000, the sentiment cost the couple approximately £7 million.
It's not the first time Engelhardt has splashed out on a reward for workers – in 2014, he spent an estimated £500,000 to hire Wales' Millennium Stadium for a staff party. He then had it decorated in both Alice in Wonderland and Harry Potter themes with jazz bands, jugglers, clowns and pop star Olly Murs brought in to entertain the 5,000 staff attendees.
The Engelhardts have also donated millions to good causes through their Moondance Foundation charity.
Watch the video of Engelhardt's emotional tribute here:
More like this:
Facebook denies "devastating sexism"
The number one reason employees move on
$50K fine for OHSA failure