HR managers who encourage socialization from the offset may have happier, harder-working employees in the long run.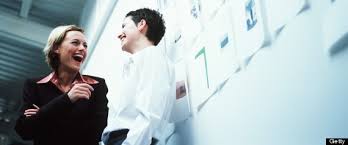 Every organization has its own initiation process – whether it's introducing the entire management team, painstakingly explaining every company policy, or simply showing off much-loved coffee station – whatever it is, researchers from Texas University say there's one thing HR managers should be doing more of…
Socializing
According to the study, early socialization has a big impact on the long-term success of a new recruit and all too often HR managers overlook this factor in favour of explaining the ins-and-outs of the job.
"We spend a lot of time on the 'how' to do the job and the tools needed to be successful when doing employee orientation," says HR consultant Paul Herbert, "but helping new employees create bonds with others at the organization has long-term benefits that we may not focus on and may overlook in the haste of on boarding,"
Researchers found that employees who had been supported in their efforts to socialize felt more loyalty towards the company in the long-run. Not only that, but employees who formed trusting relationships were also more engaged and more productive, further down the line.
Further research has also found that co-workers are actually the greatest influence on what employees learn – 65 per cent of what workers learn comes from their colleagues, with only 15 per cent coming from managers.
So that essential on boarding and getting to know the ins-and-outs might not be as important as you thought.
So what steps can HR take to better enable new employees to make lasting, social connections in the workplace?
Sink or swim
University of Illinois professor Russell Korte says the first thing HR managers must do is ditch the "sink or swim" attitude that so many seem to have.
"Everybody thinks it's the responsibility of the new person to fit in when it's actually a mutually constituted relationship between the work group and the new hire," says Korte.
"I think it's important that managers realize the power that the work group has to make or break the new hire coming in, because if people have bad experiences, they'll likely leave," he added.
More like this:
Turnover…on purpose? Why employee shifts should sometimes be encouraged
Are office friendships affecting your bottom line?
How soon is too soon to sack that terrible new hire?