Despite the gap in age and career goals, asking this question will keep all generations of workers happy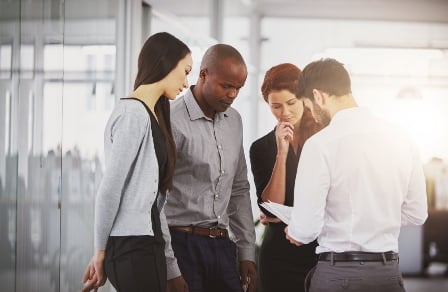 They're decades apart in age, squabble over their generational differences, and have totally different career goals, but there's a single way to please both the millennials and baby boomers on your staff.
"It's communication, regardless of generation," says Dianne Hunnam-Jones, a district president for
Robert Half
International.
"For those boomers and Xs who are showing that they're not happy in their job, and are far more stressed, communication makes a huge difference. We've probably forgotten about them, they're more tenured, they're sort of sitting in the back corner. [They want] good strong communication."
It's the same for the youngest professionals – a group for which ethics are a major factor in joining and staying with an employer.
"If they don't want to work for somebody who's unethical, they stand up for their rights and they're pretty adamant in their belief system. That transparency, that honesty, that ethical behaviour, is very important in managing that group."
In a survey of worker happiness by Robert Half and Happiness Works, the gap in what different generations value at work was laid bare.
In workers aged over 35 – including both generation X and baby boomers – the top three drivers of workplace happiness were, in order of importance: pride in their organization, feeling appreciated for the work they do, and being treated with fairness and respect.
For under 35s, feeling appreciated didn't even rate: they ranked a sense of accomplishment from their work as their top priority, followed by pride and being treated with fairness and respect.
Regardless of their workplace motivations, Hunnam-Jones says, the most important question to ask both generations is simply "what's going to keep you happy?" – although the answers are likely quite different.
"Your boomers might say 'I would love to have a sabbatical, I've been working for the company for X number of years, and if the company gave me a month's sabbatical, that would be phenomenal for me, you'll get your next 10 years out of me'," Hunnam-Jones says.
"A millennial might say 'I want to go do an executive MBA' or 'I want to another course', or 'I want to go over to the other department'."
Hunnam-Jones says understanding the desires of both groups is crucial to fostering a positive workplace culture, and attracting and retaining top talent.
Related stories:
Why millennials have changed their mind set
Is it time to ditch millennial stereotypes?
Want the latest HR news direct to your inbox? Sign up for HRD Canada's daily newsletter.