A Florida teacher claims she was fired for putting out an oven fire threatening the daycare where she worked.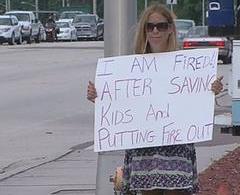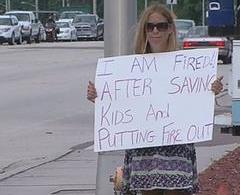 A daycare owner who fired a teacher for leaving children unsupervised to deal with a fire is unapologetic.
Daycare teacher Michelle Hammack's young charges were napping inside the Little Temples Childcare when she smelled smoke. Hammack left the room to check the source and discovered an oven fire.
"I just leaned over and peeked around and there was a fire in the oven," she told a local news statio. "I ran in there and opened it to try to put it out, and the fire alarm started going off."
She quickly went back to the classroom, woke the children and escorted them outside. She ran back inside to ensure no one was left in the building and decided to use the fire extinguisher on the oven fire to try to prevent it from spreading. Hammack succeeded in putting it out before the fire service arrived.
Believing she had done well to protect the children and building from harm, Hammack was shocked when she was fired the next day by the daycare owner Olga Rozhaov, who stands by her decision.
"I fired her only because she left her room," Rozhaov said. "Even though children are sleeping, the teachers are supposed to be there."
Rozhaov said protocol superseded Hammack's concerns.
"It's not acceptable, and if anybody else does the same thing, I will fire again," Rozhaov said. "I will fire them. No question."