Striking Halifax Chronicle Herald employees held rallies yesterday to mark a one-year anniversary nobody wanted to reach.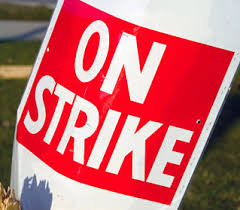 The union representing striking workers at the
Halifax Chronicle Herald
held rallies throughout Nova Scotia yesterday to mark the one-year anniversary of the labour dispute.
The
Halifax Typographical Union
, which went on strike last Jan. 23, held pickets and rallies in various locations.
Sixty-one newsroom staff walked off the job over a contract that included wage rollbacks and other cuts.
The company announced last week that an unfair labour practice complaint against it was adjourned and would be heard by the Nova Scotia Labour Board on Feb. 8.
The union said they are seeking to renew negotiations after lawyers from both sides met for informal discussions.
Ian Scott, the Herald's chief operating officer, said the company and the union last met for conciliation on Nov. 4.
Recent stories:
Alberta employer introduces domestic violence leave
How KFC is nurturing its young employees
How working from home affects wage growth