Forget the ladder – a career spiral staircase could be the key to keeping your multi-generational workforce engaged.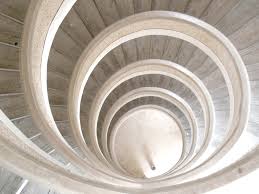 Climbing a vertical career ladder is an outdated idea – now, employees of all ages want access to a spiral staircase. If HR wants to hang on to their top talent, they'll have to start building one now.
"Employees are still keen to progress but they want flexibility and options to go up and down as well as making horizontal moves," says people management business, Penna.
"Creating the optimum conditions to facilitate this for employees is an essential part of employee engagement and retention for all employers."
Accommodating every age
Meeting the needs of a multi-generational workforce is one of the biggest challenges on the horizon for HR – but incorporating the idea of a spiral staircase could actually be the key to keeping every age happy.
Recent research by Penna shows that 34% of 55-65 year olds want their career potential to be recognised and praised – yet managers think this is more characteristic of 18-24 year olds.
It might not always be possible to promote an employee – but there will be opportunities for you to train them in a different area. Offering workers a new challenge keeps them engaged and on board.
Catherine Bédard, the VP of HR at L'Oréal Canada, says moving employees sideways and into new roles that they might not necessarily have tried, demonstrates your trust in them and your confidence in their ability.
"I move people around when I know they have the ability to succeed in a different area," she told HRM. "They have fun because they move, they learn new things and they develop new skills."
Similarly, some employees might not want the responsibility that a senior role brings – they may want to take the pressure of while pursuing other life goals – but that doesn't mean they expect their career to stagnate.
Giving employees the ability to step sideways and develop new skills shows them that you still value their talent and are committed to making the most out of their career.
At L'Oréal, HR has the authority over business managers to move employees within the company – so managers can't selfishly hang on to their top talent when they could be flourishing elsewhere.
This, Bédard says, lets workers reach their full potential and improves retention rates by keeping the feeling of a professional plateau at bay.
More like this:
The social way to ensure new-hire success
What companies can learn from KPMG's activity-based workspaces
Turnover…on purpose? Why employee shifts should sometimes be encouraged