Could bringing pets to work make staff more productive, or is it just another distraction?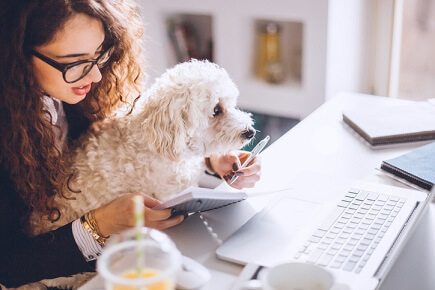 Could bringing pets to work make staff more productive and engaged, or is it just another distraction?
Employees and HR practitioners are divided on whether animals at work are a good idea, but a recruitment expert says pet-friendly workplaces may have a competitive advantage when it comes to enticing top recruits.
"As it's so competitive finding really skilled talent … companies are really looking for additional ways and incentives for attracting employees to their organizations," says Shelley Passingham, a branch manager at
Robert Half
's OfficeTeam in Toronto.
"It's something that we probably will start to see a greater focus on as an incentive to potentially attract people to work in certain companies and environments."
While most workplaces don't allow pets, more than half of HR managers believe having pets in the office makes employees happier, and more than a third believe it increases productivity, according to
a Robert Half survey
.
Sixty percent of workers also said they like or love having pets in the workplace.
One company that lets employees bring their furry friends to work is pet insurer
Petplan
, which even offers behaviour and obedience training for pooches, as well as pet photoshoots in the office.
Petplan's chief operating officer Bill Skubovius believes employees who are able to bring pets to work "feel more valued and more loyal, and they're more engaged".
"There's all these productivity stats on being around your pet – not just benefits to your health, but benefits to your productivity and your attitude and your belief system. It helps morale, it helps positive thinking and it helps better productivity and performance in employees, and if they're happier, that's a plus for employers as well."
If companies do allow pets, both Skubovius and Passingham say it's important they have policies in place to ensure workplace safety, and that the animals don't become a distraction.
Passingham suggests surveying staff on their views, checking with the building's manager, and being mindful of pet-related fears or allergies, too.
Those issues aside, she believes more and more workplaces will allow pets in future.
"More casual environments – depending also what type of company it is – might consider looking at that as a policy moving forward."
Related stories:
The pros and cons of office pets
International 'Take Your Dog to Work Day' approaching
Want the latest HR news direct to your inbox? Sign up for HRD Canada's daily newsletter.