An electronic company terrifies job applicants by fooling them into thinking they've witnessed the end of the world then turns their reactions into an ad.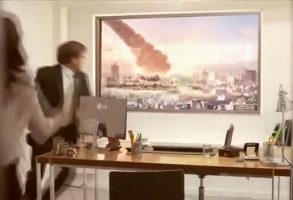 Four applicants for a job with LG Electronics in Chile were made to believe they were witnessing a meteor wipe out their city minutes into their interview.
But it was all just pretend to film an advert promoting how life-like images appear on the company's 82-inch Ultra HD TV.
While all appears normal at first, the four people, each interviewed individually, begin to witness a change out of the window which is actually the TV.
The sky turns dark then a meteor emerges from the clouds crashing into the city. A wall of cloud is seen rushing towards the building along with loud sounds of explosions. The combination appears so realistic all four interviewees freak out and being screaming. The lights then go out leaving the unsuspecting victims in the dark.
When the lights come back on the LG team behind the prank walk in reveal it was all just pretend.
The interviewee reactions after the prank are just as animated with some shouting, while some see the funny side.
Some commentators have cast doubt on the authenticity of the ad, claiming the whole process was fakes with actors playing the applicants. LG have not commented on the allegations.
The clip has been viewed more than 700,000 times since it appeared on YouTube on Monday.