An independent investigation has identified shortcomings in the airline's official protocol, suggesting it's desperately in need of an update.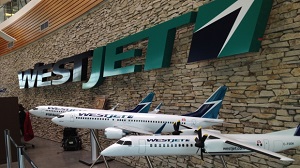 An independent review has found a number of shortcomings in WestJet's official workplace harassment policy, suggesting the system is desperately in need of an update.
The Calgary-based airline hired professional services firm Ernst & Young to conduct an investigation into the policies and practices after a former flight attendant launched legal action earlier this year.
The ex-employee, Mandalena Lewis, claims the company did not take proper action when she reported that a pilot sexually assaulted her. The allegations have not been proven in court.
Now, Lewis has spoken out about the recent review, saying it validates her view that the company is failing to protect its employees.
"It has confirmed my fears of the systemic issues that have been going on at WestJet, their failure to protect women," Lewis said in an interview.
According to the recent review, WestJet's "Respect in the Workplace" policies are not well understood by some employees, leading to inefficiencies, contradictions, knowledge gaps and avoidable risks.
Among other things, the review recommends an update to the policy and formal training for all employees.
"Employees are hurting each other and there's a complete lack of accountability here," said Lewis. "The fact that they did receive such a failing grade in this limited mandate is incredibly revealing."
The former flight attendant commended the company for undertaking the review, but called it a "scratch-and-sniff" effort that did not delve into any individual harassment complaints.
The review used three categories – developing, established and leading – to rank five aspects of WestJet's policy including governance, compliance, risk management, education and accessibility.
Four out of five aspects were deemed as developing. That means the environment is "generally inefficient, contains potential contradictions and is not necessarily in alignment with strategic direction" and that "risks and policies are not well understood and consistently managed throughout the organization."
The fifth aspect – how easily employees can get access to written policies – was in the established category.
Ernst & Young makes five recommendations. One is that WestJet update its policy – something it says hasn't been done since 2007. Others include that the airline formally train staff to ensure issues are handled consistently.
On the positive side, Ernst & Young said that during its review it "observed a culture of caring and noted the general intention of staff was to do the right thing."
CEO Gregg Saretsky said the company welcomes the recommendations.
"We are fully committed to implementing the recommendations and, in fact, have already started to do so. There is always room for improvement and we look forward to following the path laid out in this report."
Emma Pullman, lead campaign strategist at corporate accountability group SumOfUs, said when you cut through the "careful, couched, corporate language" in the report, it's evident WestJet failed the audit.
SumOfUs started a petition earlier this year calling for Saretsky to "immediately step down and ensure charges of rape and sexual assault are investigated." It had more than 27,000 signatures as of Thursday.
Pullman said it's good WestJet did a review from a "30,000-foot view," but SumOfUs intends to pressure the company to take a more detailed look at how actual complaints were handled.
"It appears that Ernst & Young was able to arrive at this conclusion about all of these failings of WestJet without having spoken to individual complainants or reviewing actual harassment files.
"My question is, what would have Ernst & Young found had they had access to those files?"
Written with contributions from the Canadian Press
More like this:
Warning signs of a toxic company culture
Facebook denies "devastating sexism"
WestJet rejects harassment allegations