Premier Doug Ford unveils his gradual re-opening plan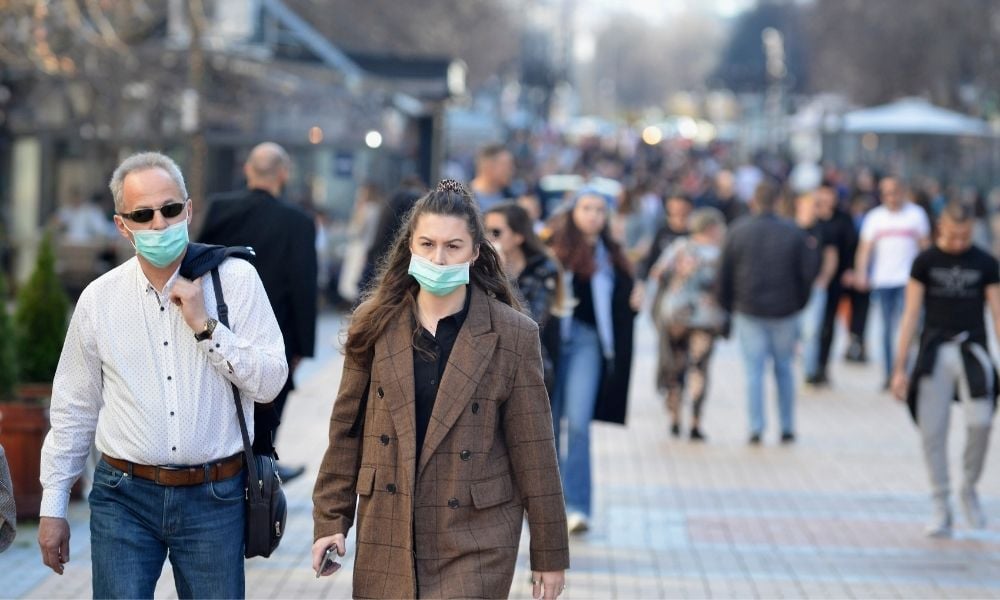 Ontario premier Doug Ford has unveiled the province's long-term plan to lift all remaining COVID-19-related public safety restrictions in the province by spring of next year.
In a statement released on Friday, the provincial government outlined what it called a "gradual approach" to lifting restrictions by March 2022, guided by the "ongoing assessment and monitoring of key public health and health care indicators, such as the identification of any new COVID-19 variants, increases in hospitalizations and ICU occupancy, and rapid increases in transmission to ensure that public health and workplace safety measures are lifted safely."
Read more: Ontario issues guidance on proof of vaccination status for organizations
COVID-19 cases in Ontario have been steadily declining over the past few weeks. The province reported 370 cases on Sunday, lowering its seven-day rolling average to 379.
Ontario's COVID-19 Science Advisory Table also released new modelling on Friday that showed cases remaining below 700 a day through to the end of November in the worst-case scenario and around 200 a day in the best-case scenario if current restrictions remain in place.
"Thanks to our cautious and careful approach to re-opening, we are now in position to gradually lift all remaining public health measures over the coming months," said Ford. "This plan is built for the long term. It will guide us safely through the winter and out of this pandemic, while avoiding lockdowns and ensuring we don't lose the hard-fought gains we have made."
Gradual re-opening
The first step of the plan occurs today, 25 October, as capacity limits are lifted in most settings where proof of vaccination are required, including restaurants, bars, gyms and indoor recreational facilities, gaming establishments, and indoor meeting and event spaces.
The government will also allow other settings to lift capacity limits and physical distancing requirements if they choose to require proof of vaccination, including: barber shops and salons, museums and galleries, aquariums and zoos, science centres, landmarks, historic sites, botanical gardens and similar attractions, amusement parks, fairs, rural exhibitions, festivals, indoor tour and guide services, boat tours, indoor areas of marinas and boating clubs, indoor clubhouses at outdoor recreational amenities, open house events provided by real estate agencies; and indoor areas of photography studios and services.
Meanwhile, the province intends to lift capacity limits in the remaining higher-risk settings where proof of vaccination is required, including food or drink establishments with dance facilities, strip clubs, bathhouses, and sex clubs on November 15.
On January 17, 2022, the province said that it "intends to begin gradually lifting capacity limits in settings where proof of vaccination is not required," while proof of vaccination requirements "may also begin to be gradually lifted at this time, including for restaurants, bars and other food and drink establishments, facilities used for sports and recreational facilities and casinos, bingo halls and other gaming establishments."
On February 7, 2022, Ontario intends to lift proof of vaccination requirements in high-risk settings, including night clubs, strip clubs, and bathhouses and sex clubs.
Lastly, the province has circled March 28, 2022 as the day when all remaining public health and workplace safety measures will be lifted – including wearing face coverings in indoor public settings.
"Since the beginning of the pandemic, Ontario has taken a cautious approach to reopening to protect the health and safety of Ontarians," said Christine Elliott, Ontario's deputy premier and minister of health. "Our plan will ensure we replicate this success and take a gradual approach that will protect our health system capacity, prevent widespread closures, keep our schools open and support the province's economic recovery."