Many people associate fast food employment with low-wage jobs and limited opportunities. Len Jillard, Chief People Officer of McDonald's Canada, is on a mission to change that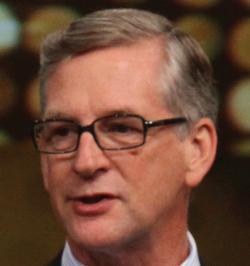 Many people associate fast food employment with low-wage jobs and limited opportunities. Len Jillard, Chief People Officer of McDonald's Canada, is on a mission to change that.

When Len Jillard was 16 years old, he wanted some spare cash for afterschool hobbies, but he only had a few evenings free every week because of hockey practice. In order to earn money while remaining committed to school and sports, he joined McDonald's as a part-time crew member.

Decades later, he is still employed by the fast food giant – although now instead of serving fries, he serves as Senior Vice President, People Resources, and Chief People Officer at McDonald's Restaurants of Canada Ltd.
After working as a swing manager during his time in university, Jillard spent several years in operations and field services, in places ranging from London, Ont. to Mexico City. Eventually he became a regional vice president of HR, and worked his way to the C-Suite. His story is impressive, but not unusual.

Although the image of a young, disgruntled worker still constitutes many Canadians' perception of a fast food employee, in reality, 65 per cent of senior officers at McDonald's Canada, including President and CEO John Betts, started out in entry-level jobs assembling hamburgers and operating the cash register.

Jillard's passion for the company and the opportunities it provides is clear in his HR leadership, and he is committed to keeping McDonald's among the top 10 of Aon Hewitt's 'Best Employers of Canada.'

THE THREE-LEGGED STOOL
Not many HR leaders can boast a staff satisfaction rate of 91 per cent, but Jillard is quick to point out that at McDonald's Canada, "that's what we're all about."

He credits much of this success to the McDonald's model of the three-legged stool, comprised of owners and operators, the supplier network, and corporate employees. Each leg is valued equally, and must work interdependently in order to sustain the business.

In addition, to ensure that each component is capable of incorporating into McDonald's overall cultural fit, HR has instituted a rigorous assessment process to ensure that stakeholders are prepared, understand McDonald's values thoroughly, and are invested in the brand. Becoming a franchisee, for example, is a multiyear endeavor involving:
Panel interviews – individuals are brought into the boardroom for a dialogue with McDonald's directors from various disciplines. "This is a shared 360 degree approach where we're interviewing them, but they're also interviewing us," says Jillard
On-the-job evaluations – monitoring potential franchisees in the restaurant setting to examine whether they are capable of operating as a worker and a leader, and ensure they enjoy experiencing McDonald's in a non-consumer role
A registered applicant program – two-year coursework that teaches panel-approved applicants about operations, finances, and other facets of business management
A day of transition where McDonald's representatives travel with applicants to their new restaurant and walk through meticulous details such as banking and location-specific installments
"It's a collaborative relationship that we have. At the end of the day, we're the franchisor and they're the franchisees, but the relationship is very collaborative and in alignment because we need each other to be successful," says Jillard.
UPHOLDING A PROMISE
McDonald's also prides itself on an employee value proposition (EVP) that centres on flexibility and the McDonald's People Promise, a very simple statement that says 'we value you, your growth, and your contributions.'

To deliver on that promise, the company has instituted a robust reward and recognition structure that acknowledges high-performing talent and incentivizes workers to take on more responsibility with time.

In addition to the employee of the month award, there's an outstanding restaurant manager award, as well as the Ray Kroc award that showcases the "elite of the elite." Named for the CEO who helped lead McDonald's into the global empire it is today, the Ray Kroc award is given to nine managers across Canada every year. Winners receive a trophy, compensation, and a trip to Toronto for leisure and to discuss local concerns with senior management.

"It's a chance to connect with top performers, get a sense of their view on things, and talk about the business," says Jillard. "We look at all the things they bring up – the complexity of the business, ideas about particular products, how to improve operations, our processes, or even the support they want for their restaurants."

These meetings have yielded such changes as the switch from "functional, pretty bland" uniforms to more employee-friendly, Lululemon-influenced outfits, as well as more liberal policies regarding applicants with tattoos.
"One of the dangers as your organization gets older and more mature is you lose touch and relevance. We wanted to prevent that," says Jillard.

COMMITMENT TO HUMAN PRACTICES
Of course, Jillard remembers his days behind the counter fondly, and strives to make the employee experience as rewarding and enjoyable as it was in his youth. He does this through extensive investment in training and development, both in the business sense, and by teaching 'soft skills' such as teamwork, staying calm in a busy environment, accountability, and dependability.

"Whether you stay with us for a year or build a career here, that's great, but we feel an obligation to help develop you as an individual," Jillard says.

He insists that even employees who leave McDonald's after a short time are still worth that investment, since restaurant performance in that span is likely to have improved, and the positive experience will turn former employees into lifelong customers.

"When people do leave, they usually look back and say 'McDonald's was a great first job,' and now we're going to have that customer for life. We're going to get ROI in a different way, but it's still important to invest in them," says Jillard.

HR BRAGGING RIGHTS
Surprising facts about human resources at McDonald's
Over 80,000 employees in Canada; 1,400 locations
50 per cent of employees are 18 years old or younger
65 per cent of senior leaders began as entry-level crew members, including President and CEO John Betts
Rated #8 'Best Workplaces in Canada – Women'; #10 on Aon Hewitt's Best Employers in Canada, 2014
Welcomed 6,200 new recruits during this year's 'National Hiring Day'
1 in 8 American workers were once employed by a McDonald's
> 1 per cent - acceptance rate for management trainees at Hamburger University in Shanghai, making it one of the most elite colleges in the world (Harvard's acceptance rate is around 7 per cent)
Employs 1.7 million people in 118 countries worldwide
Over 80 per cent of global McDonald's restaurants globally are independently owned and operated by local entrepreneurs

COMMITMENT TO HUMAN PRACTICES
Of course, Jillard remembers his days behind the counter fondly, and strives to make the employee experience as rewarding and enjoyable as it was in his youth. He does this through extensive investment in training and development, both in the business sense, and by teaching 'soft skills' such as teamwork, staying calm in a busy environment, accountability, and dependability.

"Whether you stay with us for a year or build a career here, that's great, but we feel an obligation to help develop you as an individual," Jillard says.

He insists that even employees who leave McDonald's after a short time are still worth that investment, since restaurant performance in that span is likely to have improved, and the positive experience will turn former employees into lifelong customers.

"When people do leave, they usually look back and say 'McDonald's was a great first job,' and now we're going to have that customer for life. We're going to get ROI in a different way, but it's still important to invest in them," says Jillard.

YOUTH SERVICE
One of the unique challenges Jillard faces lies in the nature of his workforce: 50 per cent of employees are 18 years-old or younger. While the possibility of generational conflict and misunderstanding may seem inevitable as a result, McDonald's takes strides to appreciate the unique needs of students and Millennials.

The company has awarded workers over $2 million in scholarships, and partners with such schools as with British Columbia Institute of Technology (BCIT) to offer leadership development coursework. In addition, it hosts a National Hiring Day every year, where it welcomes candidates to its restaurants to learn about the opportunities that exist at McDonald's. Many are interviewed on the spot, and 6,200 were hired this year alone.

Finally, youth outreach wouldn't be complete without a social media component. McDonald's realized that the way people communicate has changed, and decided to take part in that transformation.

"I know with my kids, I can pick up the phone and call them, but they won't answer. If I send an email, I might hear back in a week or two. But if I text them, I get a response in about 10 seconds. It's bizarre to me, but I knew that if I wanted to keep in touch with them,I had to figure out how they talk," says Jillard.

In that vein, the company is about to unveil a new smartphone app called 'MyMcD,' which will be used to showcase new products and promotions, highlight Canadian Tire employee event top-performing employees and restaurants, and allow for workers to send feedback to the organization. This new engagement portal will allow for real-time communication, and ensure that both sides are as up-to-date as possible on the company's internal and external affairs.

As much as Jillard enjoys his job and providing skill-building opportunities to Canada's multifaceted workforce, there's one area that remains the highpoint of a typical working day: "The Quarter Pounder with Cheese, or Sausage McMuffin with Egg and a medium Americano coffee, if it's breakfast."

See Len Jillard discuss the forces driving change in the workplace and their impact on HR's value proposition at the HR Leaders Summit on 6-7 November at The International Centre in Toronto. Visit www.hrleaders.ca