A 24-year-old man training to be a Santa Claus has fallen to his death in northern France.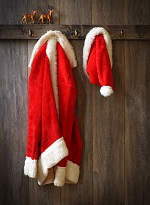 The man fell from the Douai belfry while training for the traditional Santa descent into the town.
He fell approximiately 30 metres in front of about 20 members of the club he trained with.
Paramedics were unable to save him and he was declared dead on the spot, according to the AFP. He was about a third of the way down the belltower when he fell.
An investigation will find out if there was a problem with the abseiling harness and rope used in the descent, the local department for public safety said.
The accident is very unusual given the equipment used by the team is typically designed to prevent falls.
An autopsy will reveal if the man suffered from a sudden sickness or fainting spell that might have facilitated the fatal fall.
"He was preparing for Christmas. Every year, Santa Claus descends from the belfry in Douai," said a representative for the local fire and rescue team.
The annual Christmas event was due to go ahead on December 20.
It was supposed to be the 50
th
anniversary of the first belltower descent.
More like this:
What happened in HR? 2015 recap
2015's HR stories from around the world
Far out Friday: Fake funerals held for stressed-out employees