Employers have come under fire after 130 flight attendants were grounded – for being overweight.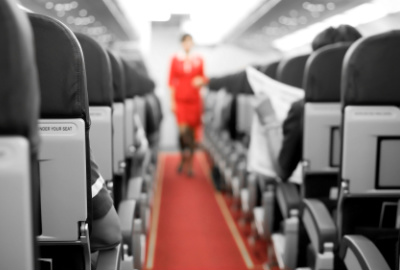 Airlines have long penalized passengers who carry luggage that's a little too heavy – now, it seems at least one carrier is applying that same logic to its employees.
Approximately 130 Air India flight attendants have been declared "permanently unfit for their jobs" after the company carried out body mass index (BMI) evaluations and "medical check-ups."
The state-owned airline insists the decision was based on safety concerns but critics have slammed the move as "ridiculous" and "shockingly sexist."
Air India tested 3,500 employees and determined that 600 were overweight or obese – they were then put on a diet and exercise plan before being reassessed.
"About 130 of them failed the reassessment," an Air India official
told the Telegraph
. "We are now declaring them permanently unfit for their job as flight attendants."
Understandably, the controversial decision has its fair share of critics.
"This move to impose a certain BMI, ignoring experience and other performance parameters, is immature, misogynistic and shockingly sexist," aviation industry consultant Mark Martin told the newspaper. "We seem to have lost the plot on what is needed from flight attendants."
Sheila Joshi, a 51-year-old flight attendant with 27 years of experience, agrees – "It is incredibly upsetting that working women are being targeted," she told the Times, after the
Supreme Court
denied her demand to ban weight limits.
"This is not a modelling job; we are not working a catwalk," she added.
Joshi managed to keep her job after slimming down to less than the 63 kilo maximum allowed for her 1.6m height.
The grounding is just the latest incident in the airline's long history of attempting to oust overweight and "unattractive" employees.
In 2004, HR manager Meenakshi Dua told the BBC; "Looks matter in this line of work and therefore we are giving it a lot of importance."
"When we review a candidate, we look at the skin, teeth and height," she added. "There should be no scars, acne, or any major marks on the face."
In 2006, the airline grounded nine female flight attendants deemed overweight, claiming it could "impair agility required to perform the emergency functions."
What do you think? Is Air India's decision safety conscious or just shallow?
More like this:
Tiny microphones – the next frontier?
Baby monitors – an unexpected employer risk
Why CEOs should have more daughters