An internationally-acclaimed business leader says HR professionals sometimes omit one of the most important aspects of a pitch – passion - for fear of looking silly.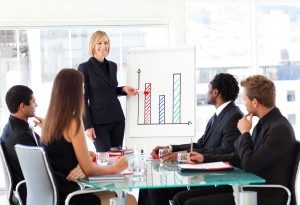 A fear of looking silly or having their suggestions ignored may be holding some HR professionals back when it comes to making C-suite pitches – that's the claim from one international business leader who says it's important to put yourself, and your ideas, out there.
"One of the things I would say to anyone is to bring passion and enthusiasm when you pitch and show that you really care about the idea," says Therése Gedda, founder and CEO of 30minMBA.
"Too often, people just present things because they feel obligated to but even when they are genuinely passionate about an idea, sometimes they're still afraid of showing that passion because they think they might look silly or their idea might be bad."
Gedda, who founded her first management consultancy firm at just 17, says passion is one of the most important elements to any pitch but is often excluded – particularly in corporate environments.
"In the start-up and tech community, passion is a given but the more I spend time in the corporate world the more I see that people have that passion too but it bubbles under the surface and they don't always share it or show it," she told HRM.
"I don't know why that is because if you are passionate there's really no reason not to show it," she continued. "Not everyone will agree with you but, ironically, it's even less likely they would agree with you if you don't show your passion or stand behind your idea so I think it's about conviction and putting yourself out there."
Despite her international success, the Stockholm-based exec admits the idea of "putting yourself out there" can be a daunting one for some but says everybody has it in them.
"You can do that in a safe way if it comes from a passion perspective," she told HRM. "It's hard for people to shoot your idea down if the idea is coming from a place of passion.
"Even people who are introverts or not used to pitching can still present with more passion and that can make a massive difference," she added.
Gedda also says HR professionals – or anyone presenting an idea to the C-suite – could improve by learning what a pitch really is and how to deliver one.
"So that means not doing a traditional 45-minute long presentation with a number of slides but presenting things in a pitch format which is from one minute to 10 minutes max," she told HRM.
"It's beneficial to have a short, concrete and engaging message and a clear call-to-action," she continued. "You should also think about working with one-liners which explain why it's important for the company to prioritize this specific idea or initiative."
According to Gedda, crafting memorable one-liners will keep executives engaged and increase the chances of them talking about the initiative afterwards.
"But before doing all of that, when you present an idea, you need to bring your passion, confidence and charisma," she stressed. "And charisma can be learned."
Therése Gedda will be offering her expert advice on how to build and pitch the perfect HR case at the upcoming
HR Leaders Summit
Forum in Toronto on November 16th and 17th. There, she will discuss the importance of passion, what makes an ideal presentation and how HR professionals can win buy-in from the C-suite.
Recent stories:
Top lawyers offer age-aware advice
Why "money doesn't matter" when assessing reasonable notice
Federal panel to explore "mysteries" of youth employment