Leadership strategist and author Dan Pontefract offers a survival guide for the recession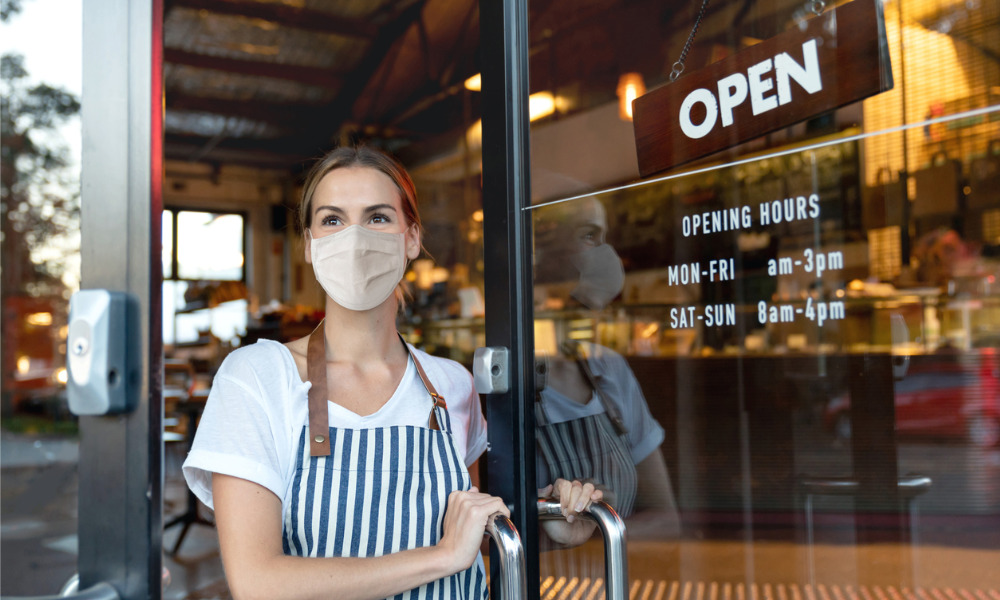 Small businesses are the backbone of the Canadian economy: they comprise over 98% of all commercial enterprises and generate 70% of all jobs in the country.
But with fewer than a hundred employees, these business ventures are the most vulnerable to the impact of recession.
In fact, one in three owners are said to be concerned about the viability of their business over the next year as a result of the COVID-19 crisis, a recent CIBC survey showed.
Read more: COVID-19 crisis to shutdown half of small businesses
While small businesses remain the "cornerstone of our communities," they have also made sacrifices, said Prime Minister Justin Trudeau in celebration of Small Business Week in Canada.
"Times have been extraordinarily tough. With workers needing to stay home and businesses forced to shut down or change their operations, too many families have been left without a paycheck and too many small businesses without revenue," he said.
The Canada Emergency Wage Subsidy (CEWS) program – which protects 3.7 million jobs across the country – has helped employers keep workers on the payroll.
"From the beginning of this crisis, our government took immediate, significant, and decisive action to help Canadian businesses keep their doors open and their employees on the job during these critical times," the prime minister said.
Read more: Now hiring: Canada's small businesses to rehire workers
But there's more to surviving the recession than just relying on government aid.
Small businesses should also take advantage of the crisis as an opportunity to build new partnerships, advises Dan Pontefract, a leadership strategist and author of Lead. Care. Win. How to Become a Leader Who Matters.
"If you want to survive, you have to think about new ways to operate and partner often," he said. "Playing offense will command new clarity for the future."
It's time for small businesses to adopt corporate tactics to thrive in these challenging times, Pontefract said in his interview with HRD.
"Do you ever notice how large corporations seem to be in partnership with one another, particularly in unique verticals? Main Street should take a page from Bay Street's playbook and find ways in which to offer unique bundled services together," he said.
"For example, a hair salon could also offer lunch at a local restaurant as part of a combined fee. Perhaps a butcher might also offer flowers from next door. Maybe an independent bookshop bundles a book with a local chocolatery's treats."
Forging partnerships, Pontefract said, is an "easy yet proven way to bring convenience and differentiation to the consumer".
Because of the growing restrictions on Canadians' social and economic life, however, convenience remains the top business concern that entrepreneurs have to overcome.
"It's far too easy for consumers to remain in their homes, press a few buttons on their laptop, and have merchandise arrive at their door in two days or less. Small business would be wise to take whatever means necessary to offer a convenience package – with a local twist," Pontefract said.
"Why not partner with local taxi services? For a reasonable negotiated fee, I can see how taxi companies and local small businesses might come together to deliver goods to local homes. As we know, taxi usage has plummeted as people continue to cocoon in their homes. It seems like a win-win option that hasn't yet been explored," he told HRD.
Ingenuity and innovation are equally needed if small businesses are to survive the pandemic.
"We are on the cusp of the holiday season. Small-business owners should be involving their team and the community at large to dream up ways in which to overcome the loss in revenue. By being more collaborative and inclusive, they are signalling the need to be inventive, but that they're not going to go down without a fight," Pontefract said.
The sheer act of being united to "entrepreneurially chisel their way out" of the current predicament will provide optimism for the road ahead.