Employees can earn cash by opting for an early night as the company implements a rewards program for well-rested workers.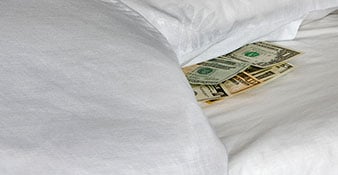 A leading insurance provider that says it values well-rested employees has put its money where its mouth is, offering workers a cash incentive for catching more than 7 hours of sleep a night.
"You can get things done quicker if people are present and prepared," Aetna CEO Mark Bertolini told CNBC. "You can't be prepared if you're half-asleep."
Last year, the Connecticut-based health care company started a program that was built entirely around getting employees to sleep more – the solution they came up with certainly gives employees an extra push.
"If they can prove that they get 20 nights of sleep for seven hours or more in a row, we will give them $25 up to $500 a year," explains Bertolini.
While it's impossible to be sure employees aren't passing their tracking devices onto somebody else, or being dishonest when they report their sleep hours, Bertolini says he has an optimistic outlook.
"We assume positive intent in everything everyone does as a going-in proposition," he told the news channel.
He may be taking employees' word for it on this initiative but Bertolini has been proactive in tracking the effects on the workplace, bringing in Duke University to measure the impact of the company's overall health and wellness programs.
According to Bertolini, the company has gained 69 minutes more of productivity each month per employee as a result of their health and wellness suite.
"It's all about the business fundamentals and business fundamentals in our business at least are operated by or brought forward by people," he told CNBC.
"It's in those business fundamentals that we have a consistently valuable product that our customers buy over time," he added. "If we can make those business fundamentals better by investing in our people then that's going to show up in our revenue, it's going to show up in our bottom line."
More like this:
Does HR really have to accommodate a vegan employee?
The one clause that HR should never forget
Which type of superboss are you?