Female employees say HR refused to investigate men they accused of inappropriate comments and touching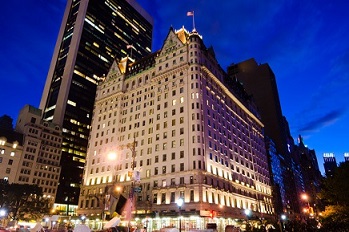 All her life, Dana Lewis dreamt of going to New York's iconic Plaza Hotel.
But days after she started working there as a hospitality coordinator, she alleges male staff began making unwanted advances.
Now, she's one of six past and present employees suing the hotel for "outrageous and incessant sexual harassment and assault by senior management and their male counterparts", according to their lawsuit.
Lewis told
ABC News
she'd dreamed of visiting the famous hotel, which borders Central Park, since she was a child.
Lewis, a single mother, continues to work at the Plaza, and says the harassment is a "never-ending nightmare".
She told ABC that while she was nervous about suing her employer, her work situation "couldn't be any worse than what it already is."
Another current employee, Crystal Washington, said that managers and human resources refused to act on her allegations of harassment from colleagues.
She refused to quit, saying her harassers should have to.
Fairmont Hotels and Resorts, which owns the Plaza Hotel, denied it had ignored the allegations.
"We take all claims of harassment or discrimination seriously, take appropriate remedial action where warranted, and do not retaliate against any staff member who raises a claim of harassment or discrimination in good faith," it said.
Related stories:
$141K award over "outrageous" RCMP harassment
CFIA execs "grossly mismanaged" harassment complaints
Want the latest HR news direct to your inbox? Sign up for HRD Canada's daily newsletter.