Corporate values can often lose their impact over time but there's a way to bring them back to life, says one expert.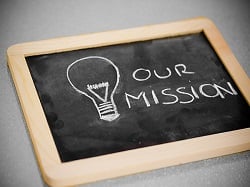 Mission statements and core values can often lose their impact over time but that doesn't mean they're lost forever – according to one expert, there's a way to bring them back to life.
"Most mission and value statements actually start with a lot of heart, but then it gets watered down in the process of becoming a statement," says
Ted Frank
, principal at Backstories Studio.
"Whatever passion that drove it in the beginning, the commitment from the people who started the company in a garage, that drive turns into a very watered-down version."
The consulting firm teaches professionals to use storytelling techniques to make presentations more effective and Frank says the same approach can be used to make mission statements meaningful to every employee within an organization.
"Storytelling can bring back that heart and help employees feel the same inspiration the execs felt initially – in the end, they'll not only get it, but they'll get behind it," he says.
For Frank, one of the most effective ways of breathing life back into a mission statement is to "go back to the garage" and show employees where the core values came from.
"Origin stories really help employees get a good sense of purpose and understanding of where that mission statement came from so it doesn't feel so hollow," he tells HRM.
Once employees understand where the values came from, once-ambiguous sentiments like integrity or honesty can take on a much deeper meaning.
While the past is undoubtedly important, Frank says employers also have a responsibility to show how those values matter in the present.
"That might be about bringing the customer forward and showing a customer's story," he says. "So if you're a pharmaceutical company and you've got a mission statement that's all about patients, if you can show a patient in need and you can show a patient who is getting through the recovery process because of the company and its mission, and you're seeing that mission actually help somebody, then all of a sudden that becomes a story that feels so inspiring.
"Then employees feel like they work at a really good company that's doing important work and that inspires people often more than a raise."
Frank says HR professionals should also encourage senior leaders who are invested in the company's core values or mission statement to speak publicly about it.
"When leaders go on camera or in front of people and they speak about the mission statement from the heart, then all of a sudden they become the hero who delivers it as well and that helps employees feel that sense of purpose and feel that integrity."
Recent stories:
Bell Media confirms nationwide layoffs
How HR can really get to know a candidate
Why you need to get more sleep