Using their platforms, many speak out against racism and advocate for real change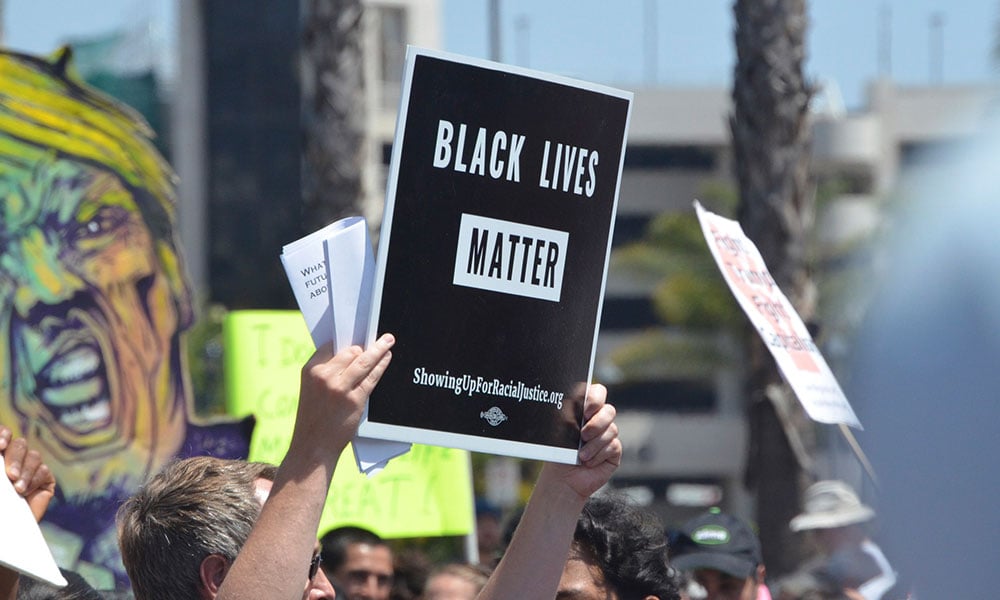 Leaders around the world sent employee memos and spoke at town halls in response to the dire US race protests sparked by the death of George Floyd and other African Americans.
Some of the most high-profile individuals used various platforms to speak out against racism and advocate for real change and reform, expressing their solidarity with the community and the #BlackLivesMatter movement.
As the US contends with over a week of nationwide protests, people have taken to the streets worldwide to show their support, including in Berlin, London, Paris, New Zealand, Istanbul, and even parts of Africa like Nairobi, Kenya.
READ MORE: For Citi CFO, atrocity of Floyd's death led to need to weigh in
There are plenty of compassionate and thought-provoking messages posted by leaders from tech giants to renowned global brands – HRD captured some of those below.
Microsoft CEO Satya Nadella and CHRO Kathleen Hogan
Remarks by Nadella spoken at a recent town hall was shared by Hogan, chief people officer & EVP, HR, on her LinkedIn page. Nadella urged empathy and addressed how the issue is "impacting and hurting many amongst us, very directly, and very severely".
He acknowledged that everyday racism, bias and hatred is a "reality in daily lives" of many, particularly the African American community. He said that the issue cuts much deeper and is much bigger than one incident in Minneapolis, US, and "we're not insulated from this".
He understands this isn't something that "you can just leave behind when you log into work". He urged employees to check in with each other, have empathy for what others are feeling and to speak to managers.
Advocating change, he reminded the need to model behaviour, coach individuals to be better allies and simply to "care for each other in times of crisis".
"I know it's not enough to just have empathy for those impacted, for the communities who are experiencing this hate, firsthand, who are scared for their safety, and for their loved ones," he said. "Our identity, our very existence is rooted in empowering everyone on the planet.
"So, therefore, it's incumbent upon us to use our platforms, our resources, to drive that systemic change, right? That's the real challenge here. It's not just any one incident, but it's all the things that have led to the incident that absolutely need to change.
"We can't do it alone. I'm grounded in that, I realize that, but together I think we can, and we will drive change."
More from CEO @satyanadella on empathy, compassion, and the need to drive change: https://t.co/i0Chbs1k2i pic.twitter.com/LILRYKtpNQ

— Microsoft (@Microsoft) May 30, 2020
Disney CEO Bob Chapek, Executive Chairman Bob Iger and Chief Diversity Officer Latondra Newton
Chapek, Iger and Newton published a joint employee memo on the Walt Disney Company's official site titled 'Resolve in a Time of Unrest'.
Besides addressing the racial injustices, the leaders addressed the ongoing grief and struggle of dealing with an overwhelming year plagued by crisis after crisis.
"While these devastating incidents are not new, there's something unique about what's happening in this moment," they wrote. "The pandemic coupled with these recent injustices have pushed the issues of racial disparity into the open.
"We, too, are struggling to make sense of the recent tragedies that leave us feeling overcome with sorrow. While we don't have all the answers, we resolve to use our compassion, our creative ideas and our collective sense of humanity to ensure we are fostering a culture that acknowledges our people's feelings and their pain.
"We also realize that now more than ever is the time for us all to further strengthen our commitment to diversity and inclusion everywhere."
READ MORE: Don't shoot the messenger! Group condemns attacks on journalists
Apple CEO Tim Cook
Cook's employee memo was published in full by Bloomberg. While there has been progress, he said the "painful past" around racism is still present today – "communities of colour continue to endure discrimination and trauma".
"While our laws have changed, the reality is that their protections are still not universally applied," he wrote.
"I have heard from so many of you that you feel afraid – afraid in your communities, afraid in your daily lives, and, most cruelly of all, afraid in your own skin. We can have no society worth celebrating unless we can guarantee freedom from fear for every person who gives this country their love, labour and life."
Addressing the need to do more, he shared that Apply is donating to several causes, as well as matching two-for-one of all employee donations through the month of June.
"To create change, we have to re-examine our own views and actions in light of a pain that is deeply felt but too often ignored," he wrote. "Issues of human dignity will not abide standing on the sidelines. To our colleagues in the Black community – we see you."
Cook also urged affected employees to reach out for help and tap on available resources, including the company's EAP and mental health resources.
"This is a moment when many people may want nothing more than a return to normalcy, or to a status quo that is only comfortable if we avert our gaze from injustice," he wrote. "As difficult as it may be to admit, that desire is itself a sign of privilege.
"George Floyd's death is shocking and tragic proof that we must aim far higher than a 'normal' future, and build one that lives up to the highest ideals of equality and justice."
Minneapolis is grieving for a reason. To paraphrase Dr. King, the negative peace which is the absence of tension is no substitute for the positive peace which is the presence of justice. Justice is how we heal.

— Tim Cook (@tim_cook) May 29, 2020
Google CEO Sundar Pichai
In an employee email published by Business Insider, Pichai promised to support employees' safety and well-being as the world continues to be battered by a year full of crises.
"It's such a difficult moment and I sense that many of us are suffering right now," he wrote. "Over the long-term, I'm hopeful we can work together to create a better, more just society.
"Today, that is not the reality we face. So let me assure those of you who may be feeling grief, anger, sadness, and fear that you are not alone."
He urged Google employees to reach out to managers and make use of available resources, including virtual support sessions. Google will also match up to $10,000 worth of donations made by employees through their internal giving initiative.
Today on US Google & YouTube homepages we share our support for racial equality in solidarity with the Black community and in memory of George Floyd, Breonna Taylor, Ahmaud Arbery & others who don't have a voice. For those feeling grief, anger, sadness & fear, you are not alone. pic.twitter.com/JbPCG3wfQW

— Sundar Pichai (@sundarpichai) May 31, 2020
Related stories