As investing in leaders is essential for fostering greater agility in your firm, which training methods are now seen as most effective?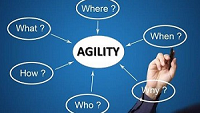 "We know that agile businesses are ones that respond faster and more confidently to changing market conditions. We also know that 'distributed leadership' and workforce empowerment foster greater business agility."
This combination means there is a more compelling reason to invest in emerging leaders, Penelope Cottrill, principle of management consulting and leadership development firm Nous Group, said.
Traditional leadership development programs are not always viable however, as it is difficult to maintain the relevance of the offered program in today's fast-moving business environment, she added. There is also a greater reluctance to take leaders away from their regular work for professional development.
"Development today means providing people with opportunities to learn from their work, rather than needing to be taken away from it," Cottrill said.
She continued saying that firms are increasingly looking to the following two methods when helping emerging leaders learn on the job.
1) Leader-led learning
"The concept of leader as teacher is not new but we are seeing it manifested in some new and interesting ways."
Firstly, this can be role-modelled from the top, she said. For instance, the CEO could address his or her top leaders and teach them how they are expected to communicate with the workforce.
The other option is a centrally designed program which is locally delivered by leaders. These blended learning programs can be delivered across different locales using technology, Cottrill said.
"These programs blend rich educational content online and on demand; directed inquiry processes like observation, practice and reflection; and leader-led conversations in which leaders facilitate learning rather than 'teach'."
2) DIY transformation
Emerging leaders can also progress by developing their own opportunities within their daily routines, she said. They can experiment and practise their way into leadership, picking up practical skills rather than solely covering theoretical knowledge.
Firms can support DIY transformation for emerging leaders by focusing on activities that offer experience beyond the team or organisation. Potential candidates can also be encouraged to take opportunities outside their specific areas of expertise and experiment in how they connect and engage with people.
"Some businesses are systemising this kind of development," she said. "One leading power management company identified the main development experiencing required to shape emerging leaders and linked these with situations likely to deliver the relevant lessons."
At this firm, aspiring leaders were urged to set out their own on-the-job experiences and work on developing their leadership skills while also supporting the business, she said.
For all the latest news and info straight to your inbox, subscribe
here
.
More like this:
Morneau Shepell announces new COO
$70K CEO wins brotherly legal battle
UK's potential PM embroiled in false CV claims