The airline worker sued for $54K after injuring her back at a check-in desk, insisting her tight uniform was to blame.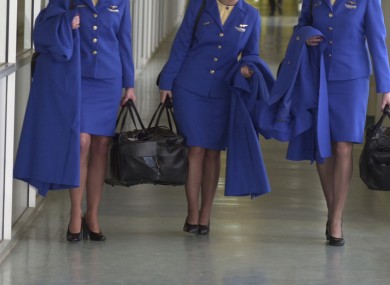 A former airline worker has had her bizarre injury claim thrown out of court this week after a judge noticed inconsistencies in her story.
County Dublin-based Agnieszka Spyra claimed the uniform she was required to wear while working for Ryanair caused her on-the-job back injury – specifically noting the "high heels and tight skirt."
The 35-year-old was seeking €38,000 (CA$53,900) from the low-cost carrier and a recruiting firm, insisting she'd been injured while lifting a light bag onto a conveyer belt but the claim was thrown out by Judge Jacqueline Linnane after Spyra gave conflicting statements about the event.
While she had previously told Injuries Board investigators and her doctor that she was seated when she suffered the injury, she told the court that she was standing when she lifted the 8kg case and felt a shooting pain in her lower back.
Spyra was also unable to prove that the budget airline had failed to provide adequate safety training in regards to handling passengers' luggage.
The judge also ordered Spyra to cover Ryanair and Mk Human Resources' legal costs but the instruction has been stalled as the former employee considers an appeal.
More like this:
CHROs take centre stage at Toronto summit
Union tactics and hot to overcome them
Should HR go for after-work drinks?