The angry employee is alleged to have smashed up the aircraft with a crane after losing his job.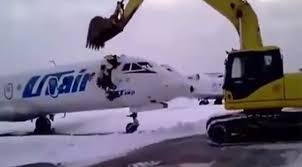 We've all seen tears and tantrums after telling someone they're fired but what about witnessing a worker wreck a $6.6 million plane as payback? That's exactly what one video claims to have captured in Russia.
The footage shows a passenger aircraft being partially crushed by a large plane with several media outlets reporting that the damage was being carried out by a disgruntled former employee who'd just been dismissed.
The aircraft appears to belong to the UTair Aviation fleet, headquartered at Khanty-Masiysk Airport and based at Roshino International Airport near Tyumen.
Released widely on both LiveLeak and Youtube, the original version of the video was captioned; "Pilot owed some money tractor driver" and multiple copies of the video have been captioned "Airport Worker Destroys Jet After Getting Fired."
The full, 30-second clip can be seen below:
However, despite the apparent carnage, some users have questioned the authenticity of the footage, claiming the company actually planned to have the vehicles destroyed.
"UTair doesn't currently have any active Yak-40's in their fleet," wrote one user. "I'm guessing these are defunct aircraft."
More like this:
HR lesson hidden in Hollywood blockbuster
Windfall for workers as top CEO gifts company shares
Why the new US$20 note leaves gender equality unchanged