Workers in Saudi Arabia have been filmed setting fire to at least seven company buses in the latest employment protest.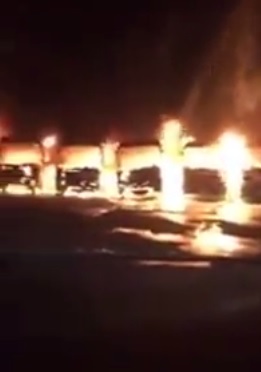 Construction workers in Saudi Arabia have set fire to at least seven company buses in the latest employment protest against unpaid wages and extensive job cuts.
Employees at the Saudi Binladin Group – a multinational construction conglomerate headquartered in Jedda – have been staging protests in Mecca over the last several weeks.
Rarely seen in Saudi Arabia, the employment protests attest to the severity of the situation and have come amid claims that some employees haven't been paid in almost six months.
The most recent attack, in which the vehicles were set alight, came after the Saudi Al-Watan newspaper reported the company had laid off 50,000 foreign employees and issued them exit visas.
Reports indicate the company, set up by Osama Bin Laden's father, is in $30 billion worth of debt due to plummeting oil prices. It has also been suspended from taking on further contracts after one of its cranes collapsed in 2015, killing more than 100 people.
Local media also reported that that five construction workers were injured before the weekend when a company official hit them with his car.
A video captured of the most recent protest was uploaded to YouTube and can be seen below:
Maj. Nayef al-Sharif, the spokesman for the Civil Defense in the city of Mecca, said that firefighters put out the blaze without any injuries reported.
More like this:
Manulife hires first-ever diversity chief
Global CEO resigns after relationship with employee
Why letting go can make HR great again