Quebec's government is fed up with police officers working side jobs and wearing flamboyant pants on the beat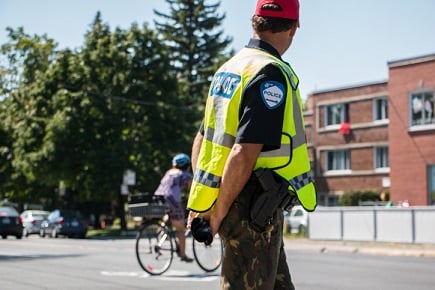 Quebec is set to ban police officers from holding secondary jobs and wearing flamboyant pants at work, saying both have become safety issues.
Public Safety Minister Martin Coiteux this week told a parliamentary committee that non-unionized on-call officers will not be able to have second jobs without the prior consent of their force's director.
A bill to bring the law change into effect will be introduced later in September.
It follows recent revelations that when a major snowstorm hit the province in March, stranding 300 motorists on Highway 13, the police officer in charge of operations had been at a notary's office as part of a property sale in his capacity a real estate agent.
Coiteux announced the law change during a hearing into Bill 133, which will require police officers to wear uniforms during work.
Quebec police stopped wearing their regulation-issue uniforms more than three years ago in protest over pension changes, instead wearing jeans, camouflage pants, and even clown pants on the job.
"We think this also is a security issue," Coiteux told the hearing.
Related stories:
Starbucks revamps employee dress code
Major restaurant backpedals on uniform policy
Want the latest HR news direct to your inbox? Sign up for HRD Canada's daily newsletter.