One former patient claims a nurse's "terrifying" tattoo left her with nightmares but bosses have stood by their liberal appearance policy.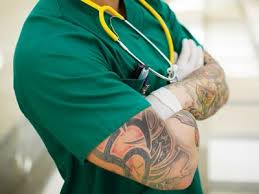 Tattoos in the workplace have long since shed their taboo status – even our recently-elected prime minister has some ink under his shirt sleeves – but are they really appropriate, or even acceptable, in every profession? One disgruntled B.C woman certainly doesn't think so.
Lake County resident Marie Molloy has hit back at a hospital for allowing staff to sport visible tattoos that could cause distress to vulnerable patients, saying she was left with nightmares after one nurse's "terrifying" tattoo left her traumatized.
"Quite frankly, when I was (not) knowing whether I was going to live or die, the last thing I needed to have shoved in my face was a skull," she told the National Post. "That was offensive."
Molloy found herself in the Vernon Jubilee Hospital last October when the effects of a previous operation were exacerbated by the rheumatoid arthritis in her larynx and her abnormally small airway.
Struggling to breathe, Molloy was fitted with a full-face, bi-level positive airway pressure mask and given the sedative Ketamine. When she finally came round several hours later, Molloy says the only thing she could remember was her nurse's skull tattoo.
While Molloy's husband admits the nurse has acted professionally throughout, she says some images should be banned and complained to the hospital.
The hospital, however, stood its ground and said the health-care facility "does not discriminate against staff with tattoos."
Leading employment lawyer Christopher Andree told HRM that there could easily be situations where employers are entirely unable to ask employees to cover their tattoos.
"There are certainly cases where you have people with tattoos or other body modifications – whether it's piercings or otherwise – that have religious significance and in those circumstances, a restriction on displaying those has the potential to be discriminatory," he explained.
However, he went on to say that – outside of those exceptions – employers are free to impose appearance policies.
"Where it is a skull tattoo on someone's forearm and they're in personal health care and the skull is of no religious significance or any other prohibited ground – it's not a cultural thing, it's not a religious thing – then the employer is well within its right to have an appearance code." He stressed.
While employers clearly have the power to impose such rules, Andree added that it's not always in the company's best interest to exercise that ability.
"You need to know your workforce and you need to adapt as your workforce changes," he told HRM.
"You don't have to go very far to see an article about how millennials are different from baby boomers and gen Xers and the kind of body art that is acceptable to one generation may not be acceptable to another," he continued.
"We also have to know who our customers are, we have to know who are workforce is and we have to be somewhat responsive to both because employers run the risk, if they have a very strict appearance code, of eliminating for themselves a number of very good candidates," he warned.
"Despite the fact that those candidates might not dress or appear the way the employer might wish them to appear, they could be very skilled and add a great deal of value to the employer's business."
More like this:
Unprecedented ruling sees miscarriage classed as a disability
Employees given 'Trump Training' to deal with violence
"I quit!" – "Not yet, you don't!"