The internationally-acclaimed editor-in-chief has stepped down to pursue a new health, wellbeing and productivity start-up instead.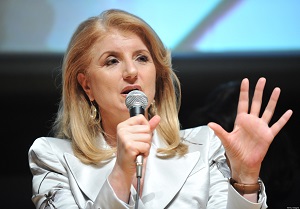 The Huffington Post will soon be without its editor-in-chief after Arianna Huffington announced she would be leaving the media giant to launch a new HR start-up instead.
"I thought HuffPost would be my last act," Huffington said in a tweet. "But I've decided to step down as HuffPost's editor-in-chief to run my new venture, Thrive Global."
Billed as a "corporate and consumer well-being and productivity platform," the new program says it will provide extensive training and education – all of which is routed in science – in an attempt to combat stress and burnout.
"Change is desperately needed if another generation is to avoid the burnout that all too often comes with success today," stressed Huffington, who aims to "transform the way we work and live."
Greek-born Huffington admitted she had considered running both companies at the same time but said doing so would have involved working around the clock and would have been a "betrayal" of her principles.
"To truly thrive means knowing when the time has come to close one chapter and start the next, and for me that time has arrived," she said.
Expected to officially launch some time in November, the start-up has already begun piloting training and workshops with
Accenture
, which has a workforce of approximately 375,000.
Ellyn Shook, the company's CHRO, said humans should be at the heart of the digital age.
"It's why we believe that creating an environment where our people can be successful, both professionally and personally, is so important to our company," she said.
"By working with an important partner like Thrive Global, we can ensure that Accenture continues to provide our people with the tools and development opportunities to help them achieve their goals," she added.
More like this:
Ontario invests $200K in workplace wellness
Workations: a modern epidemic?
Sun Life launches "eye-opening" mental health tool