Music in the workplace can either spark productivity or slow you down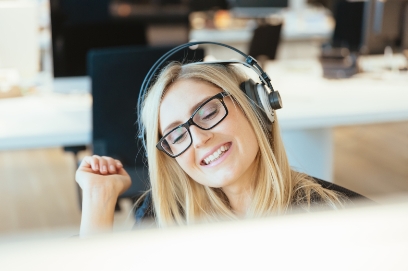 Love a good beat while at work? No matter the age, Canadians enjoy music in the workplace.
About eight in 10 Canadians who are allowed to listen to music at work choose to amp up their day with some tunes, according to a new study by staffing firm Accountemps.
Workers aged between 18 and 34 have the highest percentage (87%) of listeners, but those in the 35-54 age range (73%) and those 55 or older (57%) also pull up their playlist.
The most popular genres include pop, rock, alternative, and classical, the report said.
When it comes to office rules on entertainment, only one in 10 offices ban music-listening altogether.
But while most workplaces allow a bit of sound-tripping, HR managers should take note of whether music actually helps employees become more productive, and whether listening with the headset on cuts off communication between co-workers.
Of those who enjoy music at work, six in 10 say they are at least somewhat more productive with music on, the study showed. But this should not mean workers can simply zone out.
"For many professionals, listening to music at work is relaxing, helps to limit distractions, and can boost focus and productivity, particularly in busier office settings," said David King, Canadian president of Accountemps.
"Out of respect for colleagues, it's important that workers who listen to music keep volume levels in check and remove their headphones regularly to show they are available, open and responsive," he said.