The retail giant has unveiled a prototype "speed factory" in Germany which doesn't rely on human staff.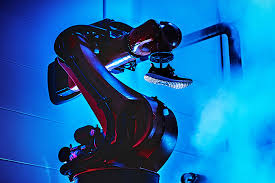 Sports giant Adidas has unveiled a new prototype "speed factory" which will automate shoe production and reduce the number of human workers required to operate sites.
the clothing and equipment manufacturer ceased production activities in Germany over 20 years ago, moving operations to Asia instead but the new 4,600-square-metre plant, based in Ansbach, Germany, will enable shoes to be made more quickly and closer to its sale outlets.
"An automated, decentralized and flexible manufacturing process ... opens doors for us to be much closer to the market and to where our consumer is," said CEO Herbert Hainer.
The factory is not yet complete but Hainer recently opened it to press and said large-scale production would begin in early 2017. He also added that the organisation was planning to open a second factory of its type in the United States, also in 2017.
Despite the advancements, head of innovation and technology Gerd Manz insisted the company wasn't about to ditch the human workforce entirely – "Our goal is not full automatization," he promised.
However, technology news site Geek reported that the new "speed factory" will have a human workforce of just 10 when the site first opens with plans to reduce that as time goes on.
The move comes as Adidas battles with rising production costs in Asia – where it currently employs around one million workers – as well as increasing shipping fees.
More like this:
$175K fine for workplace fatality
Human Rights Commission clears up gendered dress codes
County employees promised domestic violence training