The retailer has settled with Samantha Elauf, who launched a religious discrimination case in 2008 – but at what cost?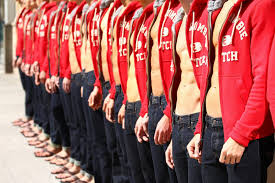 Abercrombie & Fitch's widely publicised discrimination case has finally come to a close after the clothing retailer agreed to settle for a life-changing sum of US$44,653.
The company paid US$25,670 of that to Muslim job applicant Samantha Elauf, while the remaining US$18,983 was for court costs.
The settlement closes the book on a lengthy court battle which first began in 2008, after Elauf was denied a job due to her hijab – or headscarf – violating the company's strict "look-policy."
It also comes in the wake of a
Supreme Court
decision made in June, which insisted the popular retail chain was legally obliged to offer accommodation to employees who wear headscarves for religious regions – even if it is implied, rather than overtly expressed.
"An employer may not make an applicant's religious practice, confirmed or otherwise, a factor in employment decisions," Justice Antonin Scalia said at the time.
Earlier this week, Reuters
reported
that the 10th U.S. Circuit Court of Appeals supported the Supreme Court's decision, dismissing Abercrombie & Fitch's appeal.
While the settlement might seem somewhat arbitrary, the case did compel Abercrombie to amend its controversial policy.
Clerks are now referred to as brand representatives rather than models and while they still can't wear extreme makeup of jewellery, the rules have been relaxed. Previously, French-tip manicures, eyeliner and certain hair-styling products were all out-of-bounds.
Perhaps most importantly, the retailer has agreed religious accommodation is to be allowed.
Christos Angelides, president of the Abercrombie brand explained the changes and said; "We've put the customer at the centre of the business." He added that employees should be focussed on selling, not obsessing over their level of accepted attractiveness.
More like this:
Swift sacking for homophobic college professor
Why Accenture is ditching performance reviews
Salary-slashing CEO sued by brother