McDonald's is in the middle of the great burger wars, but it may have already beaten competitors in the fight to grow employee engagement – and just maybe market share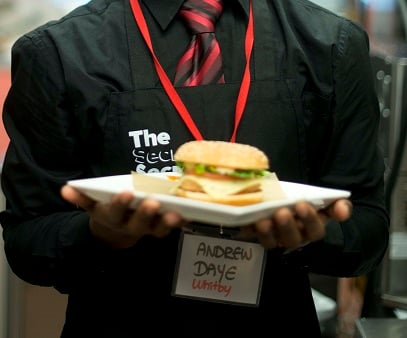 The Secret Secret Menu Challenge that McDonald's Canada launched last year has borne fruit, crowning one of its frontline workers as a culinary master but not before upping employee engagement across its Ontario restaurants.
"It is one of the wonderful things about McDonald's … that our people can get engaged in what we do – which is food," says Mike Forman, the owner of four restaurants in Whitby, Ont., where the winning creation – Kickin' McChicken – came from frontline worker Andrew Daye. "And this contest has been great for that. It lets them get creative with what they serve to folks every day in a really constructive, positive way that will help us ultimately."
Victor Rocca, vice president Ontario, McDonald's Canada, was one of six judges sampling the five employee-created dishes that made the final cut. Contestants were restricted to meal elements, including the sauces, of existing McDonald's food items, but still managed to come up with remarkably new creations, from a poutine burger to a fish and chips wrap and a brunch Egg McMuffin/Burger mashup, the
Changeover
.
"Two of the key tenets of our business are food and our people. We saw this as a unique opportunity that started in a marketing meeting to embrace our people in new and different ways," Rocca told
HRM Online.
"The genesis of this came from their interaction with our customers each and every day, so we thought: why not have some fun with it and give them a chance to meet up with some of the office people and leadership of the company?"
A total of 6.2 million votes were cast in the contest, engaging the friends, colleagues and family of McDonald's employees.
"This has exceeded our expectations," says Rocca. "We'll certainly be looking at how we can leverage it into the future."